Note: This post was updated on June 10, 2022, to include Bites Milano (a restaurant I foolishly neglected to mention the first time around where I had one of the most memorable meals of the year) and another restaurant. On July 25, 2022, I replaced the latter with Røst. It opened in late 2019, and it rocks. I can't believe I didn't get there until this summer! And as Design Week has wrapped, I decided to change the title since we're only halfway through 2022. 
If the slogan of 1980s Milan was Milano da bere, thanks to Amaro Ramazzotti, then Milan's slogan today is undoubtedly Milano da mangiare, thanks to the inventive chefs from far and wide who cook here in the Lombard capital. Yes, the pandemic devastated the restaurant industry, but Milan has bounced back and the city's restaurant scene, which keeps upping its ante, is better than ever. Call me biased, but I believe my dear adopted city plays host to Italy's top food scene.
On that note, Salone del Mobile/Design Week (the world's largest furniture fair) is back, and this year's event, taking place June 6-12 instead of the standard April, follows September's downsized edition. Pre-pandemic, over 386,000 people descended on the Lombard capital for the occasion, and this year's festival should return as close to form as possible.
Since this marks the first Salone for many since April 2019, I thought I'd compile a list of new restaurants for anyone headed to town for the occasion— or anytime this year for that matter—as they're all going to need somewhere to eat. I know many attendees likely have some favorite spots that they're eager to revisit, but I thought I'd share some new ones as well. In the context of this article, "new" indicates a post-April-2019 opening. Here, in no particular order, are 22 new restaurants in Milan. Again, this is NOT a ranking…they're listed according to the order in which they rolled off the top of my head.
1. Osteria alla Concorrenza
Diego Rossi has done it again. With Trippa, which opened in 2015, he and co-owner Pietro Cairoli brought the Italian trattoria forward by rooting the menu in "once upon a time" nostalgia. The same can be said for Rossi's approach to Osteria alla Concorrenza, which he opened in February 2021 with partners Josef Khattabi (who also owns the delicious Kanpei next door) and gracious host with the most Enricomaria Porta. Though the term is often used interchangeably with trattoria nowadays, once upon a time an osteria indicated a wine bar that served "simple food." In that same vein, Osteria alla Concorrenza is more of a natural wine bar with some of the city's most crave-worthy eats—all simple, but packing boisterously nuanced flavor. The menu comprises glorious crostone with an array of toppings (horse tartare with herring; stracciatella with 'nduja") as well as plenty of cooked piatti unici (single plates). Like Trippa, the locale swiftly earned modern classic status. Via Melzo, 12; +39 02 9167 2012; Monday – Friday: Evenings only, Saturday: noon to midnight; website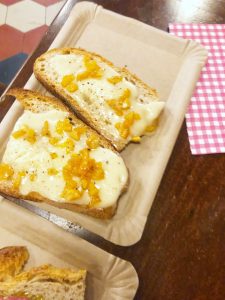 2. Remulass
My beloved Ratanà welcomed Remulass, its fratello minore (little brother) bistro, to the family in December 2021. The piccola cucina con le radici (small kitchen with roots) is located in Porta Venezia, just around the corner from Osteria alla Concorrenza in fact. Like its older sibling, the restaurant proffers up contemporary cuisine and inviting, unfussy vibes. While Ratanà offers a generous selection of dishes that riff on traditional Milanese flavors, Remulass offers a smaller, though equally thoughtfully crafted menu with elements of Lombard tradition. The spaghetti cooked in red onion and red wine sauce topped with gremolata became an Instagram darling, and it tasted just as flavorful as it appeared photogenic–but, alas, it's not on the menu anymore. But, you will eat well here regardless of what you order. Federica Fabi, wife and partner of Ratanà's chef Cesare Battisti, oversees the dining room and natural wine list, while the talented Laura Santuosso helms the kitchen. Via Nino Bixio, 21; + 39 02 5251 7356; Monday – Friday lunch and dinner, closed weekends; website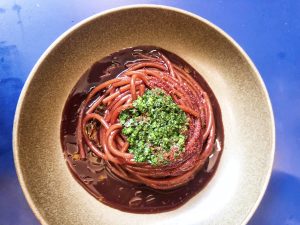 3. Frangente

Romagnolo chef Federico Sisti's captivatingly carnivorous Frangente opened in April 2021. Non-meat-eaters will find suitable fare, of course, but honestly, if you don't eat meat, Frangente isn't for you–not having meat here would be like not having fish at Le Bernardin. Expect veal tongue, pork head cheese, mondeghili (Milanese meatballs), tagliatelle al ragù, fried brain, and an excellent take on the cotoletta alla milanese, among other dishes. Also, shout out to the wine list–how can you not love a place that offers Skerk Malvasia?  Go on an empty stomach, be bold, and enjoy!  Via Panfilo Castaldi, 4; + 39 02 9684 4851; Monday – Saturday dinner,  Friday and Saturday lunch, closed Sunday; website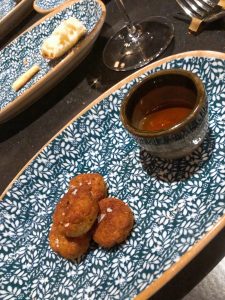 4. Exit Pastificio Urbana
Is there anything more satisfying than a pasta-tasting menu? I think not. I remember gushing about Babbo's pasta tasting to  Italian friends when I had first moved here, and they were baffled by the idea—it's a cultural thing (and I completely understand). Well Matias Perdomo caught on. He opened Exit Pastificio Urbana, a sister to Exit Gastronomia Urbana, in May 2021. Here, pasta extraordinaire Arianna Consiglio does wonderful things with my favorite carb, and her dishes are available as three- and five-course tasting menus in addition to à la carte—a blessing because the menu is so darn enticing that not only do you not want just one pasta, but you also don't want to have to choose. There's also a selection of pre-pasta dishes like vitello tonnato and caponata, and the strawberry panna cotta a dessert that I enjoyed during a recent visit was off the hook. The excellent wine selection includes Brocard Pierre Champagne (any place that offers you a glass of Champagne on arrival has won my heart) and Santa Caterina, a white from Liguria–La Spezia specifically–that I love and have sipped on several occasions in Cinque Terre.  Via Curtatone, 24 (corner of Via Orti); + 39 02 3599 9080; open Wednesday – Sunday for lunch and dinner, closed Monday and Tuesday; website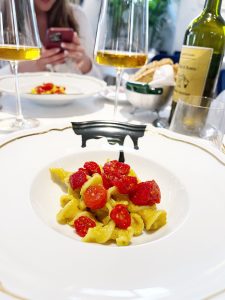 5. La Sala Bistrot 
Such a fun addition to Milan's food and wine scene! La Sala Bistrot is the second spot from the owners of La Sala del Vino, and here, a thoughtful selection of natural wines complements the enticing menu. If you follow me on Instagram, you've probably seen my posts about restaurants in Milan with menus that deviate from the standard archetype (antipasti, primi, second) to propose a list of dishes from which you can choose as many as you want in whatever order you wish. The taglierini with sour butter, anchovies, and broccoli rabe is a dazzler, and I hope some version of this always remains on the menu. The restaurant, which opened in September 2021, is bright and cozy, with just a few tables, and the service is gracious and knowledgeable. Wines include Il Foresto Cinque Terre (another wine I've enjoyed in the region) Marco De Bartoli's Terzavia Classic Method from Sicily, and a few varieties (including Malvasia!) from the previously mentioned Skerk. Via Giuseppe Prina, 2;  + 39 340 219 5759; Tuesday – Saturday lunch and dinner, Monday dinner only,  closed Sunday; website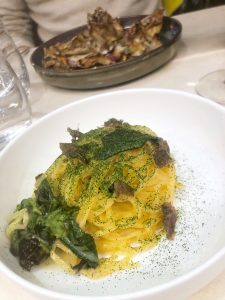 6. Ca-ri-co 
This "cocktail bistro" opened in February 2020, and its name derives from the following descriptors: "CAsuale RIstorinate COcktail bar." But don't let the word "casual" fool you. Owners Domenico Carella, one of the city's most esteemed mixologists, and Lorenzo Ferraboschi, who's known for importing Japanese food and beverage culture, have enlisted  Pugliese chef Leonardo d'Ingeo to create dishes that enhance their clever cocktails. There are a few tasting menu options available as well as à la carte. Via Savona 1; + 39 45 943 1361; Wednesday to Monday evening only, closed Tuesday; website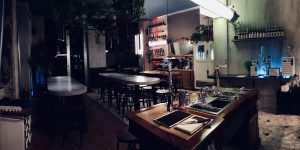 7. Ciciarà
I can't sing Ciciarà's praises enough. If you follow me on Instagram, you know I'm obsessed. It opened in early 2020, and I ate there for the first time in October of that year (for what I thought was going to be another "last lunch")–I remember my meal perfectly: pasta mista with chickpeas and bottarga preceded by marinated trout with lemon and white turnip. Today, it's one of my favorite places to eat – super simple casalinga-style fare and natural wines, and the menu changes so frequently that it's almost like every time is the first. You can read more about it in my list of best restaurants near the Duomo, but it's also one of the best places to eat in Milan, hands down. (Piazza Santo Stefano, 8; lunch and dinner; closed Monday; + 39 02 8417 8681; website)
8. Stadera Gastronomia Contemporanea
I love Stadera and everything it stands for! Located in Largo Crocetta, the gastronomia, or upscale deli, opened in July 2021  and offers both dishes from the display case and the kitchen. The labor of love is equipped with bar seating, behind which chef Aldo Ritrovato personally serves his guests, occasionally popping off into the kitchen. The food is so simple yet delightful–the display case teems with dishes packing that flavorful, humble casalinga touch that's seemingly impossible to replicate at home despite the dishes' simplicity. Kitchen offerings include spaghetti with marinated shrimp crudo and bottarga and a cotoletta alla milanese. On the dessert front, pastiera and tiramisu beckoned from the display case during a recent visit. There's a small selection of natural wines, and they also sell artisan products like pasta di Gragnano and colatura di alici. Largo della Crocetta, 1; + 39 340 605 6240, Monday – Saturday: lunch, dinner, and aperitivo. closed Sunday; website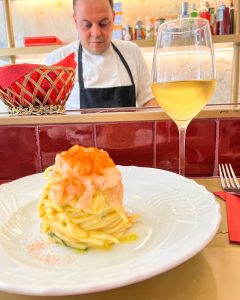 9. Gerli dal 1870 
The Gerli family, owners of the excellent Antica Trattoria del Gallo on Milan's southwest outskirts, have set up shop in the city center with a chicken-dedicated joint. I always roll my eyes at people who think chicken is banal—far from it. Chicken's easy to botch, so getting it right is an art. And trust me when I say Gerli gets chicken so artfully right. Chicken's offered several ways including as chicken and chips and a Milanese-style chicken cutlet, but the best bet is the ½ chicken that's been spit-roasted in the dining room's oven. It's soft and tender with a perfectly, crispy, caramelized skin, and the accompanying brown sauce is simply dreamy. There's a selection of alla brace (grilled) vegetable sides and some other dishes, but honestly, one of the standouts is the "pastrami di lingua" (pork tongue pastrami) panino. It's served with caramelized onions, pickled cucumbers, and mustard on a sesame seed bun, and it's one of the best sandwiches I've had in my life. The excellent wine selection includes bottles from regions I adore like Vergomberra Metodo Classico Dosage Zero from Oltrepò Pavese, Santa Caterina from Liguria, Arianna Occhipinti SP68 from Sicily, and Vigneto San Vito Pignoletto from Emilia-Romagna. Oh, and there's also riso al salto (a Milanese signature!).  Via Carlo Ravizza, 23; +39 02 8421 5366; Tuesday – Sunday, lunch and dinner; closed Monday; website 
10. Tone
Having opened about a year ago, this "bread and wine lab" is open all day for all meals and it rocks. Owner Giovanni Marabese looks to Georgia for inspiration, having implemented a Georgian oven (tone in Italian) in which baker Marco Bianchi prepares typical Georgian bread. Yet there's always a local twist: the khachapuri are filled with local cheese: ricotta, Quartirolo Lombardo, and Casolet di Val di Sole, a raw cow milk cheese from Trentino. When crafting the offerings, the team seeks inspiration from around the world, so there's plenty more to sate one's appetite. Also, the excellent selection of natural wines includes a few Georgian bottles for good measure. Via Donatello 22, +39 351 873 1109; Monday-Friday: 8:30am-10pm; Saturday and Sunday 9am-3pm; website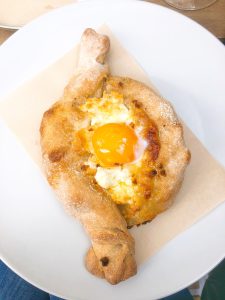 11. Bites
Bites is one of the most whimsical restaurants to arrive in the Lombard capital, having opened in January 2020. Chefs Pietro Zamuner and Andrea Baita have created a thoughtful menu consisting of just small plates, or, as implied by the name, bite-sized portions. Guests can order a la carte or opt for a 6- or 10-course tasting that the chefs choose for you. The food, which is heavily influenced by Japan, is beautifully executed–delicate and packing flavor. On a recent visit, I enjoyed amberjack in gelatina with ponzu sauce and tomato water, artichoke in a smoky, garlic-free bagna cauda-like sauce, and French toast topped with beef crudo, roasted eel, and horse-radish. For wine, you can choose a three- or five-glass pairing if you're not going for a bottle and would like some variety.  Via Lambro, 11; + 39 351 866 8452;  Thursday – Monday, lunch and dinner; closed Tuesday and Wednesday; website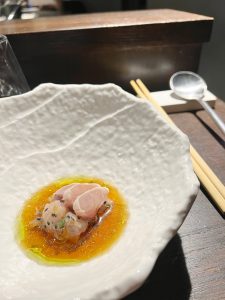 12. Hic Enoteche Cucina 
As far as wine bars in Milan go, the Hic Enoteche Group is rather prolific with four concepts under its belt: Boutique, Lab, Bistrot, and Cucina. The latter is the latest addition to the family, having opened in early 2021. Footsteps from the Porta Romana metro, the locale has a stronger emphasis on food than its sibling spots as well as a vast selection of wines by the glass. On the food front, expect dishes like spaghetti alla chitarra with broccoli rabe cream, mussels, and bottarga; beef tartare with salt, pepper, figs, and raspadura di lodigiano cheese; spaghettoni di Gragnano in Adriatic pink shrimp bisque; and arctic char crusted with yellow zucchini, melissa, and green zucchini cream. Viale Sabotino 38 (ang. via Crema) + 39 02 83429046; Monday – Saturday evenings, closed Sunday; website
13. Immorale Osè
Osè is Italian for "risque," the underlying theme of the establishment where sex features prominently though subtly. Located in Porta Venezia near its sibling restaurant Immorale, Immorale Osè opened earlier this year. Here,  chef and owner Luca Leone Zampa has crafted a tastefully provocative menu undercut with just a tad of irony. The menu draws inspiration from Spanish writer Manuel Vazquez Montalban's "Immoral recipes," who prepared dishes to awaken and stimulate all the senses, making eating a sensual experience. There are two tasting menus, Decadent (four courses plus two surprises) and F*cking Decadent (8 courses plus three surprises), otherwise, go à la carte. Via Alessandro Tadino, 43; +39 02 5251 8831; Monday – Saturday: dinner, closed Sunday; website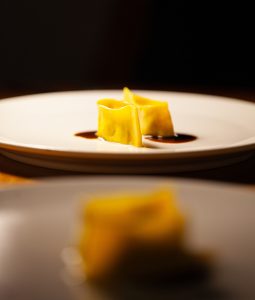 14. Loste Café
Owners Lorenzo Cioli and Stefano Ferraro, who met while working at Noma in Copenhagen, opened Loste Café in January 2021. The bakery/specialty coffee shop/natural wine bar serves an array of pastries, like a cinnamon roll and pain au chocolate, and savory foods, among which ridiculously delicious 'nduja- and fontina-filled brioche is a standout. Pizza and focaccia stand front and center at lunch, and they're also open for an aperitivo. The specialty coffee is top quality–I'm a big fan of their flat white. Via Francesco Guicciardini, 3; + 39 02 4537 5475; seven days: 8am-5pm; website  ​​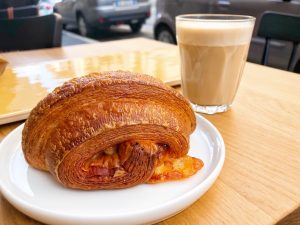 15. Mezè 
When I compile these lists, I try to put the reader front of mind. I often ask myself what would anyone traveling here want to eat? Would they want to have Lebanese when they're in Milan? Well if the restaurant is Mezè, the answer should be yes. This gem opened in March and I've already devoured chef Maradona Youssef's excellent fare twice. The menu offers a few tasting options as well as à la carte.  The saj, or Lebanese flatbread offerings, are amazing – the bread is made at a designated station in the dining room. Of the filled saj, the aàrich with ricotta yogurt, parsley, onions, and peperoncino is one of the most satisfying things I've tasted in a while–I wish I could make it my daily spuntino. The small, thoughtful selection of natural wines is rounded out with a few Lebanese labels, but honestly, the mint lemonade with orange blossom water takes the cake. You're welcomed with a glass of it along with some labne, veggies, and saj, and you can also order it by the glass or the carafe. But, alas–and much to my chagrin–they don't sell it to-go by the gallon. I think it would be a delightful combatant to keep on hand for battling the sweltering Milanese summer. Via Pasquale Sottocorno, 19; + 39 02 5280 9202; Tuesday – Sunday: lunch and dinner; closed Monday; website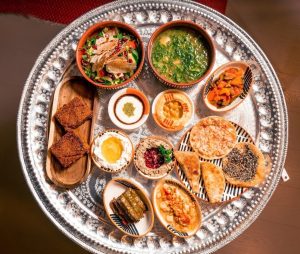 16. Baratie 
Part cocktail bar and part restaurant, Baratie opened in June 2021. Like La Sala Bistrot, the menu comprises a single list of dishes–here though, chef Andrea Cicu's menu is divided into those more suited to an aperitivo and those more suited to dinner. Aperitivo dishes don't exceed 7€, and dinner dishes run from 8-14€ with the pigeon, recommend for two people costing 22€. They have an excellent selection of natural wine, though patrons would be remiss to not sample one or two of Giacomo Sacchetti's cocktails, like the Mediterraneo with vodka, lemon, Maraschino, and rosemary, or the Anna La Rossa, with mezcal, Select, pink grapefruit, and herbs. Via Stendhal, 49; +39 02 8278 8546; Monday-Saturday evenings, closed Sunday; website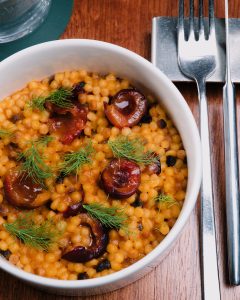 17. Bentoteca
Yoji Tokiuoshi opened his namesake Michelin-starred restaurant in 2015 after honing his talent for several years under Massimo Bottura. Originally conceived as a pop-up in that fine-dining venue, Bentoteca is here to stay. The chef had said in interviews that he had been playing around with the idea of a less formal restaurant for a while. Then along came the pandemic, which had prompted him to switch gears in order to reflect the times. He closed the fine dining restaurant and began offering delivery in and around Milan in the form of bento boxes, officially launching Bentoteca in May of that year. Bento boxes of course feature on the menu, but there's plenty of other excellent Japanese fare and equally excellent natural wines to go with it. Don't miss the little piggy bao and the delicious fried frog legs, which could be a nod to how the amphibian features prominently in old-school Milanese cuisine. Via S. Calocero, 3; + 39 02 8425 4626; Wednesday-Sunday: lunch and dinner, Tuesday: dinner, closed Monday; website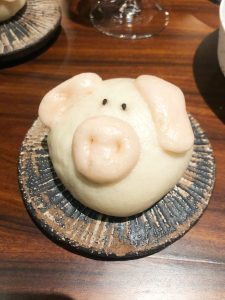 18. uovodiseppia 
One of 2022's most anticipated openings, uovodiseppia is a bistro from Pino Cuttaia whose restaurant La Madia in Agrigento holds two Michelin stars. Influences from Sicily factor heavily into the menu, but there are a few Milan- dedicated dishes.  Guests can order à la carte or opt for the tasting menu. The restaurant is also open for breakfast, serving coffee and baked goods in the morning. Via Lodovico Ariosto, 22; + 39 02 4962 1255; Monday-Saturday: 8.30am-11.30pm, Sunday: 9am-11.30pm  website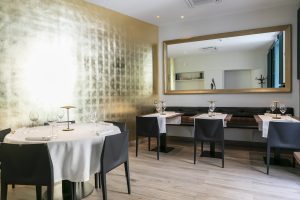 19. Mercato Centrale
Since there's a good chance you'll be passing through Milano Centrale at some point, allot some extra time to hit up Mercato Centrale, a vast food market that opened in September 2021. Here, some of the city's top talent have set up shop. Wine lovers can enjoy a glass at Tannico Wine Bar's spot while Matias Perdomo (chef of Michelin-starred Contraste and owner of earlier mentioned Exit Pastificio) sells empanadas, undoubtedly an homage to his Uruguayan heritage. Beloved pastry Davide Longoni has an outpost of his bakery and chef Marco Bruni of U Barba serves Liguria-inspired eats like the exquisite Recco-style focaccia (focaccia col formaggio/focaccia di Recco). With over 40 spots serving up some crave-worthy eats, there's plenty more where this came from. Via Giovanni Battista Sammartini, 2; ground floor of Stazione Milano Centrale, near the exit to the taxi stand on the side of the station facing the Excelsior Hotel Gallia; Seven days: 7am to midnight though hours vary for the individual stands; website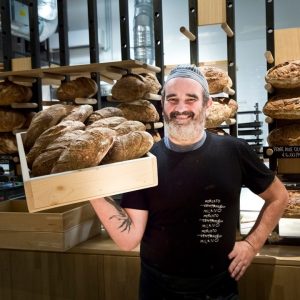 20. Contrada Govinda
Speaking of Davide Longoni, the baker partnered with chef and writer Tommaso Melilli to revive Govinda, a beloved vegetarian restaurant (one of Milan's oldest) belonging to Hare Krishna that closed during the pandemic. This bakery with an adjoining cafe stays true to the locale's roots, adhering to the principles of Hare Krishna (no garlic, onion, eggs, meat, fish, and alcohol). Georgian chef Nata Qatibashvili's Ottolenghi-style dishes include pea vellutata with potatoes and mint served butter- and za'atar-topped crostoni and a salad of purslane and radishes with apricot and pumpkin seeds. The menu is available as both tasting and à la carte for lunch and dinner. Via Valpetrosa, 5; +39 02 4954 2241; Wednesday: 9am to 3.30pm; Thursday-Saturday: 9am to 3:30pm; 7:30pm to 11:30pm; Sunday: 10am – 4pm; closed Monday and Tuesday; website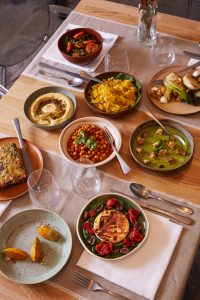 21. Norah Was Drunk
Norah Was Drunk opened in February 2022 and definitely warrants a mention not only for the intriguing name but also because this cocktail bar offers one of the most particular experiences in the city: absinthe and canned fish. Plus, it's located in one of the most vibrant neighborhoods, one that's often overlooked and unsung by foreigners: Lambrate. At Norah Was Drink, owners Niccolò Caramiello and Stefano Rollo have crafted a clever cocktail list centered around an impressive absinthe selection (imported directly from France and Germany),  but not only. To eat, guests can choose from an array of canned fish imported from Portugal, cheese from small Lombard artisan dairies, Spanish and Umbrian cured meats, and French oysters—you can make a meal out of it, or just go for a drink (or two). Via Nicola Antonio Porpora, 169; +39 02 8342 8246; Open seven days, 7pm-2am; website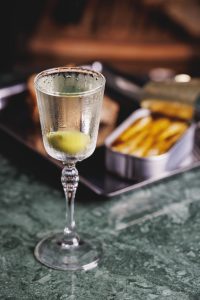 22. Røst
Last, but most certainly not least! Don't let the Scandinavian "ø" fool you. Røst's cuisine is rooted heavily in Italian tradition. However, Lucia Gaspari trained at the late Michelin-starred Relae in Copenhagen as well as at the Michelin-starred Tokuyoshi in Milan and three-star La Calandrei n Padua. Since 2019, the Veronese chef has been serving Italian bistro fare, and it's all awesome. She's joined by restaurateur Hippolyte Vautrin and Enrico Murru, who oversees the front of house. The comfy, inviting space feels a little like home, and the menu foregoes the traditional layout, presenting a list of dishes guests can order however many they want for dinner or an aperitivo. The menu isn't pasta-heavy, though I had some fregola with mussels, lemon, and peperoncino that was fluffy in texture and danced on the palate. If bone marrow is on offer off the menu, get it. Also, don't skip dessert the rice with milk cream is insanely delicious. Pair it all with one of the excellent natural wines,  and don't forget to start with the mondeghili (Milanese meatballs)–they're among the best in town. Via Melzo, 3; 344 053 8044; Dinner: Tuesday – Sunday, lunch: Friday, Saturday, and Sunday; closed Monday; website