Trippa restaurant in Milan is the most exciting place in eat in the city at the moment, hands down. This forward thinking neo-trattoria from chef Diego Rossi and his front-of-house counterpart Pietro Cairoli has redefined Milan's dining scene.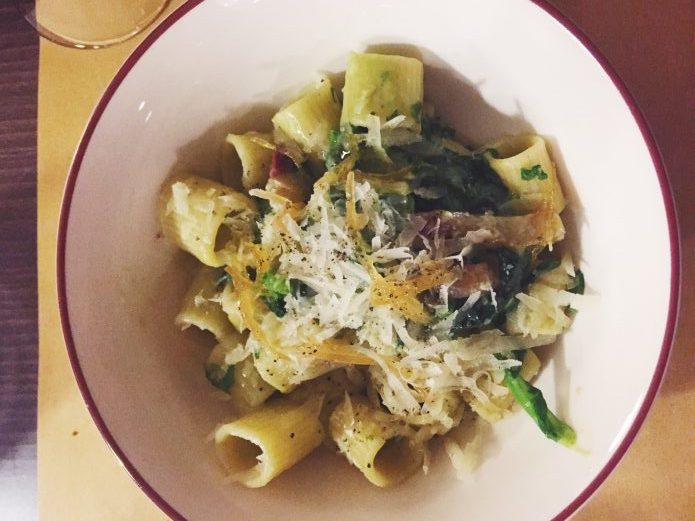 If I have one bad thing to say about Trippa restaurant, it's that the menu changes so frequently you might never again be able to taste that amazing one-off pasta dish on your next visit, but there are mainstays that never go out of style like vitello tonnato.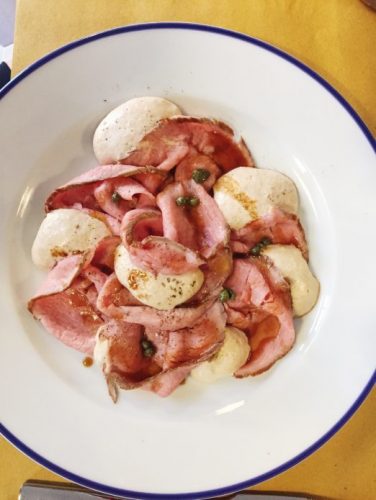 You can order à la carte or choose a set four-course menu that costs 35 euro (if I remember correctly).  Diego also prepares some off-the-menu items fifth quarter items as the restaurant's name suggests (trippa means tripe). The bone marrow is insane (in the best way possible)…served on slabs of wood with spoons so you can just scoop the marrow out. The name trippa, however, has a double meaning as trippa also means substance and you'll find a plethora of substance here.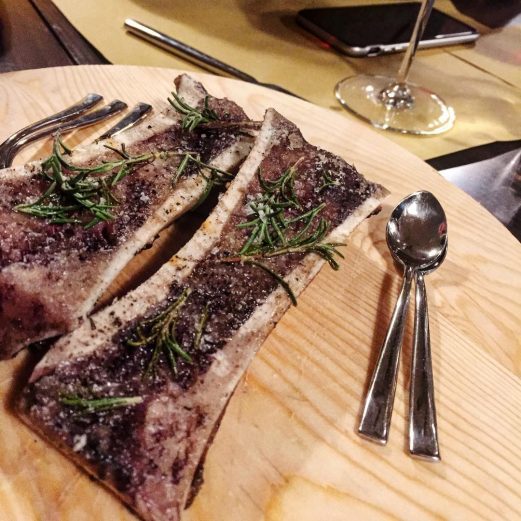 As much as I love to eat, I have a hard time with three proper courses (antipasto, primo and secondo) in general, so I usually do an antipasto and primo here, and I've had some the most memorable and inspiring pasta dishes that I've ever tasted in my life here, like a mezze maniche with broccoli rabe, anchovies and candied lemon; spaghetti with gorgonzola, agretti and hazelnuts and spaghetti with tuna, lemon and coffee, among much other too-good-to-be-true deliciousness. The names are simple yes, but Diego's inventive, thoughtful approach and polished technique take the cuisine a few notches above typical trattoria fare without burning a hole in your wallet.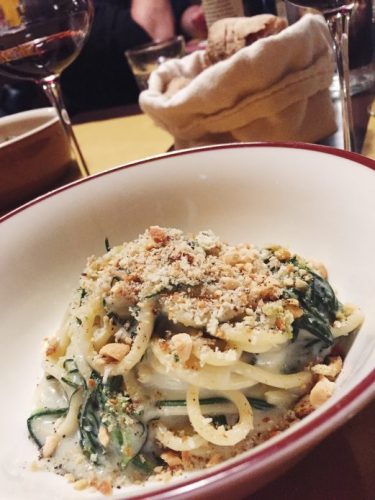 The wine list focuses heavily on biodynamic bottles and Pietro's team would be happy to guide you through any suggestions. The space itself is warm and cozy, with lots of wood, and charming old black-and-white photos adorn the mustard yellow walls. Go, go, go here! But don't forget to reserve a table in advance otherwise you just might find yourself disappointed.
Trippa restaurant in Milan; Via Vasari, 3;  + 39 327 668 7908; website
Monday – Saturday: 7.30pm – 11.30pm (kitchen closes at 11pm)
Reservations are a must