While I'm a summer person at heart, winter in Milan definitely has its perks, among which are hearty cassoeula, heart-warming Christmas illuminations, and a deliciously robust bollito misto!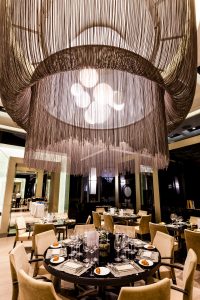 A bollitio misto, or a mix of boiled meats, is a quintessential Lombard winter tradition by which various veal and beef cuts, cotechino and hen simmer for several hours in a vegetable broth. Hardy, tender and flavorful, these quality cuts are a comforting and cozy repast on those chilly Lombard winter nights. For the second consecutive year, Terrazza Gallia at the Excelsior Gallia Hotel in Milan celebrates the start of the cold weather season with Bolliti by Cerea.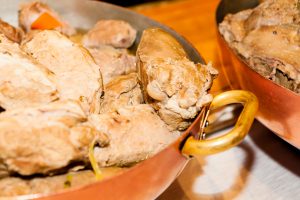 Brothers Roberto and Enrico Cerea, who consult on Terrazza Gallia's menu, are the chefs of Da Vittorio, one of Italy's eight three-star Michelin restaurants, located in Brusaporto, a town in the nearby province of Bergamo. Together with the Gallia's executive chef Vincenzo Lobana, the brothers are serving up Bolliti by Cerea at the Gallia for the second year in a row which means the Milanesi, or anyone who's visiting town, can bollito like a boss this winter. Tenth October marked the first of these six consecutive monthly dinners, which are held in the restaurant's ground floor private dining room.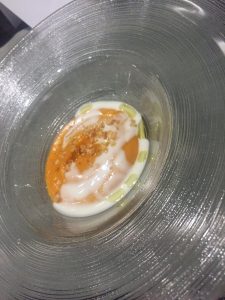 Pumpkin cream topped with crunchy amoretti crumble and robiola cheese kicked off the repast.  The striking presentation resembled an over-easy egg, yet tasted perfectly like autumn! The sweet pumpkin and amaretti balanced the slightly acidic cheese, and it was quite the crowd pleaser. Next up was a porcini risotto, a classic capitalizing on one my favorite autumn bounties!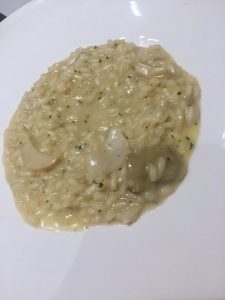 Then it was on to the grand bollito misto buffet! Six giant pots that had been boiling for hours awaited us: cotechino (a pork sausage that's kind of like a salume but needs cooking); gallina (hen); guancia (beef cheek), testina (calf head meat); lingua (beef tongue); and cappello del prete (beef shoulder, which literally traslate to "the priest's hat").
All the meat hailed from nearby Piemonte, and a condiment station alongside the buffet was chock full of a colorful array of delightful sauces and accompaniments to complement the meat: Salsa verde (green sauce), mostarda di Cremona (a candied fruit syrup), beet sauce, Lombard peppers, tomato sauce and caramelized onions. The final station offered vegetable side options like carrots, spinach and potato puree.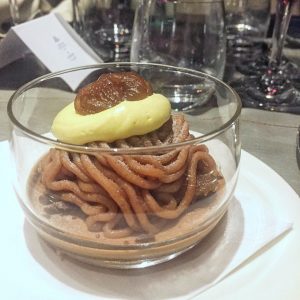 Dessert was a Monte Bianco, a typical chestnut puree dolce named after the famous Alpine peak, as well as La Veneziana, a Cerea brothers speciality! A take on panettone, La Veneziana is made without eggs or candied fruits, and has a sweet sugar glaze.
Upcoming Bolliti by Cerea dinner dates: 7 November, 5 December, 16 January, 5 February and 6 March. The courses will change with the seasons/ingredient availability, but they'll change.
For reservations:
events.excelsiorhotelgallia@luxurycollection.com OR
+39 366 9393222
Terrazza Gallia at Excelsior Gallia Hotel, Milan, A Luxury Collection Hotel
Cost per person: 90 euro per person, wine not included
Website