The historic center of Milan is fascinating. When I first moved here, the only restaurant I would have recommended was Giacomo Arengario–you can't beat that view. The warren of winding lanes surrounding the Duomo and Galleria was (and still is) peppered with tourist traps offering special "tourist" menus with dishes like bolognese, cacio e pepe, etc., among the token cotoletta and risotto alla Milanese. 
Things started to change in Autumn 2014 when esteemed Neapolitan pizzaiolo Gino Sorbillo opened an outpost of his Lievito Madre pizzeria near the Duomo. Dry opened the year before and ultimately prompted a pizza revolution that transpired over the following years, and with Sorbillo, Milan had two exceptional pizzerias. In May 2015 (just in time for the World Expo), three-star Michelin chef Niko Romito opened Spazio on the last floor of the Mercato al Duomo inside the Galleria, and it immediately became a destination for locals. The chef has since expanded his presence in the city, opening a restaurant at the Bulgari Hotel in 2018.
Also, Felice LoBasso came and went, earning a Michelin star at his restaurant Felix Lo Basso, which he opened in 2016 on the fifth floor of the Galleria. He closed in early 2020, just before the pandemic, yet he didn't venture too far from the Duomo. He relocated to the Risorgimento area where he opened Felix LoBasso Home&Restaurant in October 2020. Here, where he also earned a star, he serves a 12-course tasting menu.  Anyhoo, I digress.
When it comes to finding restaurants by the Duomo in Milan, things are even better now. I've highlighted some restaurants below where you're guaranteed to eat well following the honorable mentions in the next few paragraphs, 
Sorbillo has another pizzeria in the 'hood, Pizza Gourmand (as well as a pizzeria in Isola) and a dope fried pizza joint, Antica Pizza Fritta da Zia Esterina, also near the Duomo. Now, I have nothing but respect for Sorbillo, but if you don't live in Milan, I'd honestly advise you to save Sorbillo for when you're in Naples and visit somewhere exclusive to Milan for pizza like Dry (which now has two outposts and has stayed both relevant and good) or Crosta, which opened in 2018–one of the co-owners is Dry's original pizzaiolo Simone Lombardi.  Btw, they're not in the Duomo's immediate vicinity, but not unreachable. (Note: Crosta serves Lombardi's pizza tonda at dinner only.) 
I compiled this map/list with travelers in mind as I think they're looking for food that's more Italian/Milanese.  But if you're a local, I'm giving two shout-outs to Temakinho, a Brazilian sushi spot, and Gastronomia Yamamoto, an excellent Japanese "deli" of sorts. The latter is located south of the Duomo near Missori (one subway stop from Duomo, but it's easily walkable). If you're heading in that direction, though, I highly recommend Exit. If you want to head a little further south, go to Exit Pastificio Urbano (Crocetta on the metro, but you can also reach here on foot). More about the latter two below.  However, if you're a traveler going to Temakinho, Yamamoto, or Sorbillo, do them for lunch and save the dinner slot for something else.  
Also, another place that gets some love around the area is called Slow Sud–I haven't been so I don't know how it is firsthand, but I just thought I'd put it out there. All of these spots are on the map.
Lastly, for any eagle-eyed readers, I just want to add that yes, I know there are plenty of excellent spots to satisfy a sweet tooth nearby (Marchesi in the Galleria, Iginio Massari, Artico Gelato, etc.), but this post is for restaurants onl–I had to draw the line somewhere!
Ciciarà 
One of my all-around Milan faves, Ciciarà opened just before the pandemic and it's still going strong! This trattoria serves a simple flavorful menu that changes so often, I feel the need to always have to go there to keep up with all the new dishes in my Instagram feed. The menu has just a handful of antipasti, primi, and secondi dishes, and it's all accompanied by a thoughtfully curated natural wine list. Since the menu changes daily, I'm hesitant to make suggestions, but I will say you'll eat well here. There's almost always a tagliatelle al ragù, though the ragù may change–could be pork, goat, or another meat. Mondeghili (milanese meatballs) with salsa verde are usually a sure bet and they're always spot on. I really love this place–it serves the type of food I want to eat every day, and the dishes are accessible enough to inspire you to try to recreate them at home–though they'll be good, they will lack that magic Ciciarà touch, so they just won't be the same. And as for the name, it means "to chat" in the Milanese dialect.  (Piazza Santo Stefano, 8; lunch and dinner; closed Monday; + 39 02 8417 8681; website)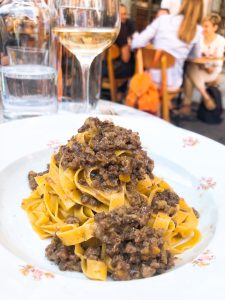 Spazio 
Niko Romito, chef of the three-star Michelin-rated Reale in Abruzzo, opened Spazio in 2015 just in time for the World Expo. Students of Romito's Formazione, or cooking school, oversee both the kitchen and the dining Rome. (He opened a Rome outpost in 2018.) The food is contemporary Italian–while there's definitely a polished refinement to the presentations, the dishes are unfussy and there's no ingredient overkill. I've had one of my favorite Milan dishes of all time here – tagliatelle with lemon and mint. It's on the Galleria, on the fourth floor of Mercato del Duomo. Enter the ground floor at Motta and take the escalators up, following the signs. (open seven days: 12.30pm – 2.30pm and 7.30pm – 10pm; +39 02 878400; website)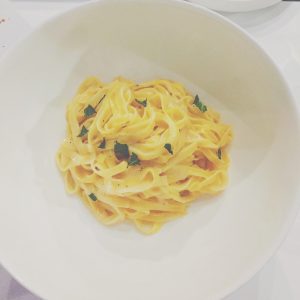 Camparino
Yes, this spot is one of the world's best cocktail bars (currently ranking 27 on the World's 50 Best list), but the food is good here too. It opened in 1915 and switched ownership over the decades before officially returning to Campari in 2018. They implemented changes galore, including hiring Tommaso Cecca, one of the city's top mixologists, and relaunched Camparino with a quasi redesign (though the historic components are still in place). Given the prime real estate, this is one of the pricier options on here, but the quality is high so you don't feel like you just paid for the ambiance—btw, the clever food and cocktail pairings are a lot of fun! (Piazza del Duomo, 21; open seven days 9.30am to 12am; +39 02 8646 4435; website)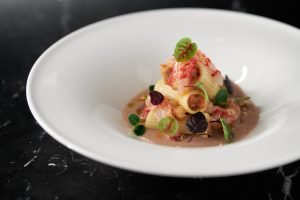 Panino Giusto 
It would be sacrilegious to come to Milan and not eat a panino! These sandwiches play an integral part in the city's late 20th-century culture, and if you're going to have one, Panino Giusto is the best way to go. It opened in 1979–the original location on Corso Garibaldi is still going strong. Panino Giusto has several Milan outposts along with a presence in Lombard cities like Bergamo and Varese as well as one each in Rome and Geneva. The company's growth has never affected the quality–the panini are always spot on. Plus, the owners are creative, always coming up with something new, like collaborations with Michelin-starred chefs to create special panini. My two faves are the Giusto (prosciutto di Praga, mozzarella, anchovies, tomatoes, and mustard) and Siciliano (grilled zucchini, Cacio Ragusano, and robiolina aromatized with thyme and marjoram, pesto with basil from Pra', extra-virgin olive oil, and oregano on whole-wheat bread). It's an excellent spot for lunch.  (Via Agnello, 6, 2012; open seven days 11am – 12am [closes at 11pm on Monday]; +39 02 2506 1444; website)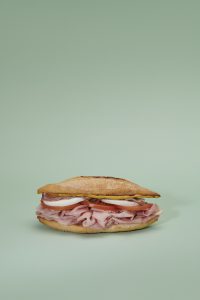 Giacomo Arengario 
Giacomo Bulleri was one of the countless Tuscans who moved to Milan after World War II, having arrived in 1958 after a detour in Turin where he worked his way up to chef in the city's restaurants. He opened Trattoria da Giacomo the year he arrived here, and the restaurant still stands, though not in its original Via Donizetti location– he moved to Via Sottocorno in 1990. He has a few other locations under his belt, including a rosteria, a pastry shop, and this restaurant, which opened in 2010. It's inside the historic Arengario building and it has an exquisite view over Piazza del Duomo. Here, Peruvian chef Jose Otaya balances out Milanese classics like risotto and cotoletta with dishes some influenced by his native Peru. Also, don't skip dessert, the bomb, the chocolate cake, and the mille-feuille rule. Tip: The Museo del Novecento is in the same building. Instead of taking the elevator, walk up the spiral walkway and stop to admire Il quarto stato (The fourth estate). Painted by Giuseppe Pellizza da Volpedo between 1898 and 1901, the mesmerizing work depicts a workers' strike. (Via Guglielmo Marconi, 1; open seven days, 12pm-12am; + 39 02 7209 3814; website )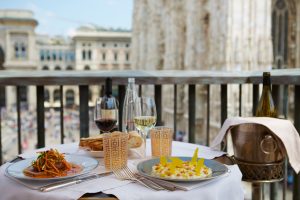 Exit Gastronomia Urbana
 I have s soft spot in my heart for Matias Perdomo, the creator of the late"Il Pont de Ferr's La Cipolla Rossa (the red onion): a candied Tropea red onion stuffed with goat cheese and caramelized Tropea onion marmalade–it's one of the most epic contemporary Milanes dishes. Anyhoo, he left Al Pont de Ferr, where he earned a Michelin star, in 2015 and opened Contraste later that year, where he also earned a Michelin star. He opened Exit Gastronomia Urbano in 2018 with his Contraste partners Simon Press and Thomas Piras, The informal gastronomia is open for lunch, aperitivo, and dinner, and has an expansive outdoor seating area that feels a world away from the city. The backdrop is informal, and the food, while presented with a bit of refined touch, comes at super accessible prices. If you're a fan of focaccia di Recco/focaccia col formaggio, they have a collaboration with Focacceria Mauelina and offer a standard version and one with 'nduja.  A little further south is Exit Pastifcio Urbana (Via Orti, Via Curtatone, 24), which, as its name implies, specializes in pasta in myriad ways, and it's glorious–it opened in 2021. Note: If you're at Mercato Centrale, don't miss Perdomo's empanada stand. (Piazza Erculea, 2; open seven days 12.30pm-11pm; +39 02 3599 9080; website)