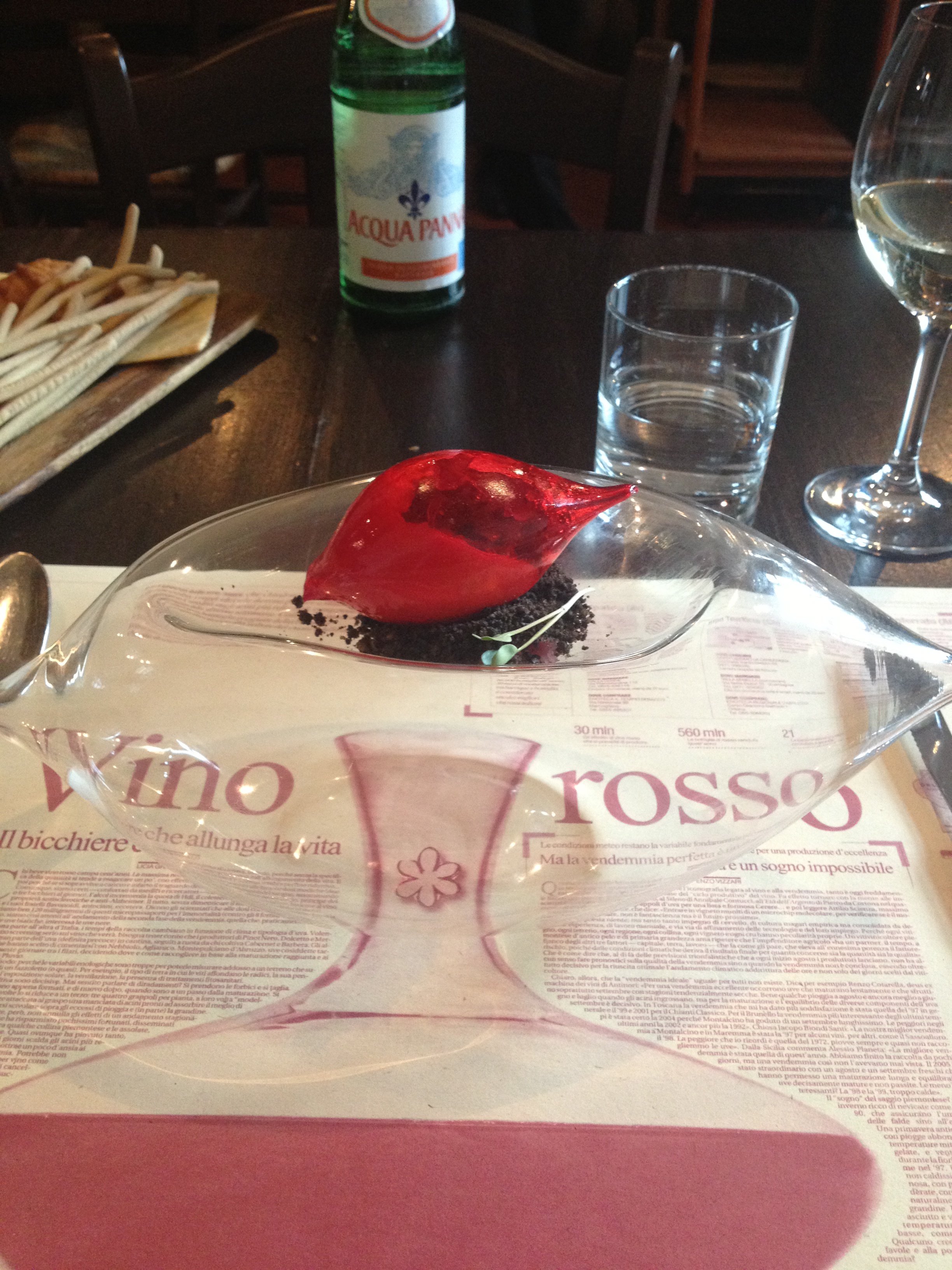 Once in a lifetime–or perhaps twice if you're lucky–you eat something that transports you to cloud nine. In that very moment, it's just you, the plate in front of you, and your fork and knife. One of my favorite films, "I Am Love," beautifully depicts a tastefully provocative happening of this nature between Tilda Swinton and a dish she's served at the restaurant of Antonio–her son's close friend and future business partner with whom she eventually embarks on a torrid love affair. The scene is brilliantly shot…once the shrimp and ratatouille is dropped in front of her, her eyes light up while the room dims, the sound muffles and a spotlight shines on her plate. Her love at first bite grows more joyous with each subsequent one, and at times, she looks like she's about to cry.  No other being or interaction exists…it's just Tilda and her shrimp.  Here's a clip. It's a glorious scene and in his review for The New Yorker, Anthony Lane goes so far as to call it "the best sex you will get all year" on the big screen.
Well last summer, I had an unforgettable encounter somewhat along these lines–though a little less dramatic–at the restaurant Al Pont de Ferr, which coincidentally is located in Milan, the setting for "I Am Love." A friend suggested I try La cipolla rossa (the red onion) for my starter and I shrugged and said, "Sure" without really giving it much thought. The menu description reads: La cipolla rossa di Tropea di zucchero soffiato, cipolla caramellata con il formaggio di capra fresco su pane al sesamo nero. This translates to a candied red onion from Tropea, a Calabrian town famous for its sweet red onions.  The blown sugar is filled with goat cheese and a caramelized onion relish/jam kind of concoction, then served atop a bed of a black sesame and bread powder of sorts.
I immensely enjoy all of these ingredients, but nothing prepared me for what I was about to experience. I cracked through the shell and made sure I got all the components–shell, goat cheese, sesame, and onion concoction–in one bite, and it was like an explosion in my mouth.  I devoured it while constantly repeating remarks that expressed my enjoyment such as, "Oh my God, this is so good" until it was all gone. In that short but sweet moment, nothing else existed but me and my cipolla rossa. I knew I still had another course ahead of me, but there was just something about that onion. It has since held a special place in my heart, and I needed to have it again. And have it again I did…
I recently returned to Milan for Taste of Milano and as soon as I finalized my travel plans, the first thing I did was phone Al Pont de Ferr to reserve a table for Sunday, June 2nd. (Si, ho prenatato in italiano!) I realize that there can only ever be one "first time" with any dish, so I wasn't exactly trying to recreate my Tilda Swinton moment. I just wanted to go for another roll in the hay with la cipolla rossa.
June 2nd was long. I had dinner on my mind all day, and I couldn't wait for 8pm to roll around so I could take my seat at Al Pont de Ferr. Even though I had previously looked at the menus online and knew I was going to order La Nostra Tradizione Degustazione, I perused the menu anyway and pretended to ponder so as not to appear too eager.
When la cipolla rossa arrived, I stared at it. Even though I knew what I was in for, the moment wasn't any less thrilling; it only lacked surprise. I cracked the candied shell with my fork and knife, and had my way with it. The distinct flavor of the goat cheese and  the sweet onion jam are balanced  exquisitely by the mild earthiness of the black sesame, and the texture of the shell brings the dish to another level. I tuned out everything else while slowly savoring each and every bite, the last one with simultaneous pleasure and disappointment; it was over until next time, but I did still have four more courses to go. The rest of the tasting rocked the casbah, but the onion rocked my world. I can't wait to add a third notch to my  la cipolla rossa belt.