When it comes to food neighborhoods, everyone knows that London has Shoreditch, Paris has the 11th, and New York has Flatiron. But most jetsetters don't know that Milan has Porta Venezia, a neighborhood that's pretty much been "where it's at" on the food front for about the last six years or so. Yet more recently, a particular stretch of Via Melzo, that between Via Lambro and Via Bixio, has become a dining destination in and of itself. If you listen to the first episode of my podcast, the Milanophiles, my guest Roberta Abate and I discuss this roughly 200-meter stretch of must-visit restaurants.
Restaurants have been opening here at a rapid clip and just as rapidly, they've become some of the city's most successful and beloved. A handful of established chefs and restaurateurs have even chosen this tranquil neck of Porta Venezia to open new concepts. Honestly, if your Milan dining itinerary doesn't include at least one of these restaurants, then you should seriously rethink your plans.
My list, which is in no particular order, starts with the newer ones then highlights a "bridge" before getting to the mainstays and concluding with a charming non-food must-visit ship (for anyone who might want to do some shopping). Honestly, there are a couple of more spots here, but I haven't been to them all (yet), but once I do, I'll update this blog post accordingly.
The Newbies
1. Osteria alla Concorrenza
Josef Khattabi, Enricomaria Porta, and chef Diego Rossi (of Trippa) opened this restaurant in early 2021–the novelty has yet to wear off, and it won't any time soon. It's packed every single night, so booking in advance is a must–you then have the table for two hours. During the warm-weather months, reserve a table outside. Once seated, choose a bottle from the ever-rotating selection of natural wines–wine bottles line the walls, but they don't distribute a proper wine list., Instead, you just tell the friendly staff your preferences and they'll present you with some options. The lack of a kitchen has no adverse effects on the flavor factor whatsoever. Go for the crostone–don't skip the taleggio with mostarda or stracciatella with 'nduja, and, if you're more daring, the horse tartare with herring. Focaccia comes with a selection of seasonal fillings, but the focaccia di Recco con mortadella, is a life-changing perennial that I hope never comes off the menu. Plus there's plenty more where this came from–you'll just have to see for yourself. Via Melzo, 12, 20129; 02 9167 2012; Monday – Friday: evenings only, Saturday: noon to midnight website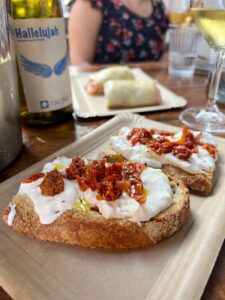 2. Røst
Røst opened in December 2019 and garnered enough pre-pandemic momentum to propel it through the dark days. A visit here is a must and memorable–guests sample Piermaria Trischitta's excellent cuisine while basking in Enrico Murru's warm hospitality. Røst is one of those intriguing restaurant breeds that forego the standard menu archetype (antipasti, primi, secondi) for a single list of dishes, which they recommend taking one at a time and sharing. Pasta is a rarity–on my last visit, the only option was a dreamily fluffy dish fregola with mussels, lemon, and peperoncino. It's worth noting that mondeghili, or Milanese meatballs, are some of the best in town, and the torta di riso (rice cake) with crema di latte (milk cream) is downright orgasmic. Via Melzo, 3; 344 053 8044; Dinner: Tuesday – Sunday, lunch: Friday, Saturday, and Sunday; closed Monday; website;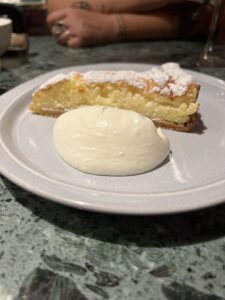 3. Kanpai
Inspired by a Japanese izakaya, Kanpai opened in 2018 and warrants a visit just as much for the food as it does for the cocktails which (rightfully) garner lots of love. The flavorful menu spans starters, meat, fish, vegetables, noodles, and wagyu while Samuele Lissoni's outstanding cocktails implement Japanese whiskies and gins, sakes, and Asian flavors for some of Milan's most clever libations. The list is classified into Sweet, Salty, Sour, Spicy, Bitter, and Umami. The Daiquiri a chi (Daiquiri for whom)?, which falls under the latter, packs white rum, shiokoji (salted rice malt), lime and wakame cordial, and Verjus (sour grape juice) The industrial decor is offset by murals and video installations and recordings of the Tokyo metro play in the restrooms. While cocktails are the focus, they have a thoughtfully selected wine list–any place offering Selvadolce (which I had there once) lights my fire. Fun fact: it's owned by the previously mentioned Josef Khattabi of Osteria alla Concorrenza (Kanpai's next-door neighbor). Via Melzo, 12; +39 02 3826 9862; Monday – Thursday 7pm – 1am; Friday and Saturday: 7pm to 2am; closed Sunday; website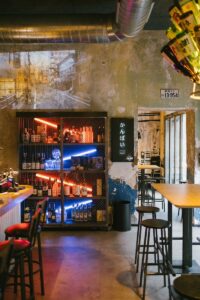 4. Crosta Lab
Simone Lombardi and Giovanni Mineo, two of the city's best bakers and pizzamakers (and future Milanophiles podcast guests!), opened Crosta Lab on Via Melzo in 2020, an extension of the superb Crosta (less than five minutes away on foot), one of the city's best (and most decorated) bakeries/pizzerias/cafes. Here, the fierce kneaders focus on production during the day, but come evening, they sell pizza a portafoglio, a Neapolitan street food, from a window. Fun fact: the pizza is named after the Italian word for wallet, so-called because of the way the pizza is rolled up. Via Melzo 5; Open seven days; 7:30pm – 12am; website;
5. Remulass
While Remulass isn't precisely on Via Melzo, its Via Bixio address is about a five-second walk from the corner of Via Melzo, which warrants the restaurant slot on this list as far as I'm concerned. Remulass is the sister restaurant to Ratanà, arguably the finest contemporary Milanese restaurant in town helmed by chef Cesare Battisti (spoiler alert: another future Milanophiles podcast guest). Remulass, overseen by Federica Fabi, is a piccola cucina con le radice (small kitchen with roots) specializing in excellent bistro-style food – the spaghetti cooked in red onion/red wine sauce and topped with gremolata became an Instagram darling that was just as pleasing to the palate as it was on the eyes. In October 2022, Francesco Vitale replaced chef Laura Santosuosso in the kitchen. Via Nino Bixio, 21; + 39 02 5251 7356; Monday – Friday lunch and dinner, closed weekends; website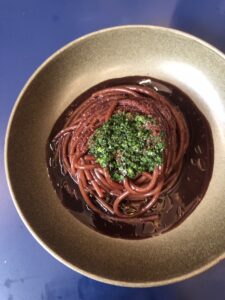 6. Serra di Quartiere
This cozy cafe/restaurant, which opened in November 2021, is outfitted with a small kitchen and seating for just 15. What it lacks in space, it more than makes up for in flavor, charm, and character.  A bar first, Serra di Quartiere is equipped with a kitchen, so guests can even drop in for a meal. Cocktails and natural wines are also on offer alongside an artisan coffee selection and excellent baked goods (like cinnamon buns!). Via Melzo, 3; +39 334 956 3983; Wednesday – Monday; 8am to 4:30; opens at 8:30 on Saturday; website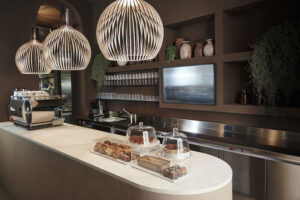 6. Spica
Chefs and partners Ritu Dalmia (Cittamani) and Vivana Varese (the Michelin-starred VIVA Viviana Varese) opened Spica in 2019. Here, the chefs draw inspiration from their world travels, proffering a menu that spans the globe. Instead of selecting several dishes from a handful of cuisines, the chefs serve about 1 or 2 dishes, from varied parts of the world such as Colombia, Dalmia's native India, Turkey, Lebanon, and more. Via Melzo, 9; Tuesday – Saturday; dinner; Saturday – Sunday: Lunch; closed Monday; +39 02 8457 2974; website
7. Égalité
This French boulangerie and bistro opened in 2018. With baskets teeming with baguettes. pain au chocolate, and more, this transportive establishment provides francophiles, both wannabes (like myself) and legitimate, a temporary escape to Paris. Lunch options include a Croque Monsieur (one of my all-time favorite foods), and the warm ambiance also provides a charming backdrop for an aperitivo. Via Melzo, 22; +39 02 83 48 23 18; open seven days; website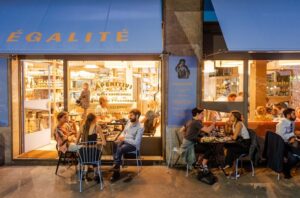 The Bridge
8. Pasta Fresca Brambilla
Pasta Fresca Brambilla has been making and selling fresh pasta since 1969, but the owners started serving both dining-in and takeaway meals in 2013, so I think the establishment is a fitting bridge between the said newbies and the subsequent mainstays. This is an excellent spot for some simple, casalinga-style dishes–the kind of pasta you (or at least I!) want to eat every day. Choose from tagliatelle al ragù, lasagna, plenty of stuffed pasta, gnocchi, and a variety of sauces, and, if you're in a rush, a selection of wine and craft beers. Via Melzo, 2; + 39 02 2952 1359; Tuesday to Saturday, 9am – 9pm; closed Monday and Tuesday; website
The Mainstays
9. Ristorante Warsà
If you know Milan, you're well aware of its vibrant, eclectic international dining scene. Yes, plenty of non-Italian restaurants have opened in recent years, but Milan's varied cuisines are nothing new and Warsà is a testament to this. This Eritrean restaurant has been going strong for 30 years. The food is vibrant–go for the vegetarian or meat platter, and couple it with plenty of injera bread, the heart of the meal, that's made on-site daily. Via Melzo, 16; +39 334 308 2993; Lunch and dinner Wednesday to Sunday; dinner only on Monday; closed Tuesday; website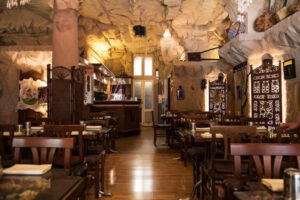 10. Bar Picchio
This old-school, 53-year-old bar may seem anachronistic when compared to all the new places nearby, but this beloved institution isn't going anywhere anytime soon. The bustling crowd outside, even on some of the chilliest evenings, is a testament to how Bar Picchio remains just as relevant as the newcomers. This is an epic spot to sip, sit, nosh on some small bites, and chatter – classic aperitivo drinks cost just under 5€ and they're STRONG! T You can also drop in for coffee or to complete most tabaccheria-related tasks. Via Melzo, 11; +39 02 2953 1433; open Monday – Saturday 7am – 10pm; website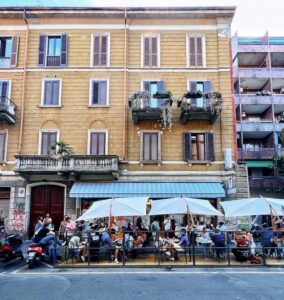 Non-food must-stop shop
11. Tità Bijoux Lab
If you're going to Osteria alla Concorrenza, it's likely the colorful, glittering objects in the window of this jewelry shop to its left will beckon you. Run by two sisters, Tità Bijoux Lab specializes in smart homemade jewelry that makes for an ideal Milan memory for yourself or a gift for someone back home. I like everything, but I'm particularly fond of the lace earrings. Alternatively, if you can't make it to Milan but have the urge to bring Milan to you, Tità Bijoux Lab ships worldwide. Via Melzo 12; +39 02 2052 0004; open Tuesday- Saturday; closed Sunday and Monday website