So, I went to Paris last month and I can't believe I hadn't been in (dare I admit this?!) two years. It's just unacceptable — even sacrilegious! I can say for sure that another two years won't elapse between my next visit.
Paris has my heart! It is really truly the city of my dreams. People ask me why I don't move there, and it's because my relationship with the city is the healthiest relationship I've ever had in my life. I'm always happy when I'm there and I fear living there would ruin that for me. That being said, I'm not opposed to living in Paris (A Signorina in Paris has a nice ring, no?), I would just have to do it right so I'm not struggling there. At all.  I would need a place to live and rock-solid security so I can live out my days there in happiness. Anyway, I'm digressing…
So, I wanted to share some of my Paris restaurant highlights from my recent visit, all of which are listed below. Hope this is helpful for anyone who may stumble across it!
A Mere: Mauricio Zillo always wins! We miss him in Milan, but I'm happy for Paris. I always, always, always eat well at his restaurant A Mere. I sadly neglected to jot down the names of the dishes I ate (the following is one of them, though!), but my four-course dinner rocked as always. Paris is lucky to have him!
https://www.instagram.com/p/BccWnVwlXX0/?hl=en&taken-by=mauzillo
The Ellsworth: I have a friend and former colleague from my NYC past life who works here, but I swear this connection doesn't make me biased. I ate an apple and endive salad, which was like the greatest salad ever, and their most famous dish: buttermilk fried chicken with pickles. It was honestly one of the best and most elegant fried chicken incarnations that I ever tasted.  Loved cutting into the chicken with a fork and knife instead of biting into it and dealing with sticky fingers. And of course, the desserts rocked! They included Malt ice cream and chocolate sorbet with milk crumbs and espresso foam as awell as dreamy ricotta doughnuts.
https://www.instagram.com/p/BchoCcrlw4q/?taken-by=a_signorina_in_milan
Le Servan: One of my all-time favorite Paris restaurants! I ate here three years ago and it was just as memorable this time as the first time. Enjoyed tofu croquettes, pumpkin soup with lard cream and breadcrumbs and a delicious chicken with fried Jerusalem artichokes. For dessert, I had the financier. The staff was warm and pleasant, and I can't wait to go back.
https://www.instagram.com/p/BbJjCYEFdWq/?taken-by=restaurant_leservan
Nanashi: I had a lovely brunch at this Japanese-inspired Marais restaurant. It felt good and healthy, and I was in amazing company. I had the vegetarian bento box which included grilled avocado with feta and all sorts of good-for-you that never tasted bland.
https://www.instagram.com/p/BVSky2wAXFh/?taken-by=nanashi_paris
Chez Marianne: For years I've always gone to L'As du falafel, but I'm kinda sick of the long queue and hurried service–the type where they act like they're doing you a favor by serving you their falafel. This time, I passed Chez Marianne and decided to give it a try. Not only was it absolutely delicious, but the staff was beyond pleasant…they didn't rush us! I felt like I was world's away from the madness of Paris' falafel mecca. For 18 euro, you can get a drink, the falafel special and one of their strudel. I chose pistachio. You eye those desserts on your way in (and on the way out) so it's pretty impossible to not enjoy one if you're there.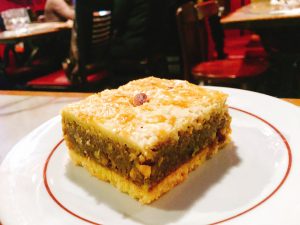 Chez Hanna: Because I adore falafel, I just had to enjoy it twice. Also on the fabled Rue des Rosiers, Chez Hanna is busy, but nowhere near as hectic as L'As du Falafel. And it was really good. Loved, loved, loved the mint lemonade which reminded me of Israel.
Pierre Hermé: I've been getting my macaron fix here for almost a decade, and the Mogador is still my favorite flavor! Don't get me wrong Lauduree is good, I just find Pierre Herme more adventurous. Plus, I can't find PH in Milan which makes it even more special!
https://www.instagram.com/p/p4Dj7huVQW/?taken-by=pierreherme
Henri Le Roux: My friend Taline told me about this place three years ago. Henri Le Roux is famous for its caramels, and I hadn't had them in so long so I bought two of each flavor which includes a standard caramel as well as raspberry, tea, cassis and lemon flavors. I also enjoyed the Madagascar Hot Chocolate, which you can sip in the shop. I, of course, couldn't leave without some chocolate bars. I also spotted their Advent Calendar which is now a Christmas 2018 goal.
https://www.instagram.com/p/BdXTphNHhrn/?taken-by=henri_le_roux_jp
I completely and totally forgot to visit Miznon…I went to the original in Tel Aviv and and loved it. Even though I passed the Paris location a few times, I just kept forgetting to go. Oh well, next time. Something tells me I'll be back before you can say Febraury.