After two years and change in my adopted city, Milan never fails to impress me by revealing a new secret in the most unexpected places, and the city's Atelier Nespresso outposts was hidden in one of most magical places I've ever happened upon here.
After successful stints in Antwerp, Lyon, Berlin, Lisbon and Stockholm, Atelier Nespresso arrived at Milan's Nonostantemarras, a stunning event space that belongs to the workshop of stylist Antonio Marros. Milan is often described as the city of closed doors and beautiful interior courtyards (in both the literal and figurative senses), and these courtyards never disappoint, stirring simultaneous feelings of both surprise (oh my gosh! I can't believe this place exists) and a too-cool-for-school indifference (of course a place like this exists behind one of Milan's imposing closed doors). But anyway, I digress….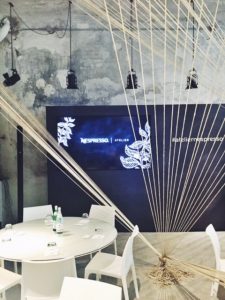 Walking through the building's typical grand Milanese entryway felt like going through the looking glass, emerging in a wonderland where green vines and leaves adorned the courtyard walls, and a small stairway led us to a cozy wooden patio where we mingled before going inside. The main room had a stripped down, bare bones industrial feel, enhanced by an installation of criss-crossing taupe-colored ropes and hanging light fixtures. Atelier Nespresso kicked off with a presentation of the terroir and origins of Nespresso coffee, and then we sampled two of Nespresso's Grand Crus, which we sipped and analyzed like wine.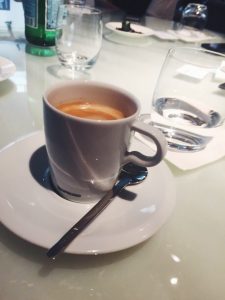 We then moved into an exquisitely decorated mirrored room with two long, banquet style tables for a lunch that felt like being inside a modern fairy tale. The chefs on the roster on this particular Saturday were Andrea Ribaldone of the one-star Michelin-rated Due Buoi in Alessandria, Cristina Bowerman of the one-star Michelin rated Glass Hosteria in Rome and master pizzaiolo Renato Bosco of Sapore at San Martino Buon Albergo near Verona.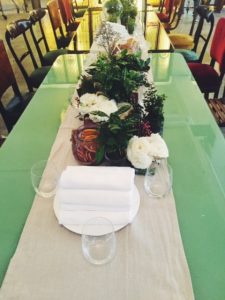 Nespresso gave the chefs creative freedom to present  a new interpretation of one of their crus, which meant us attendees got to sample an unprecedented incarnation of the coffee.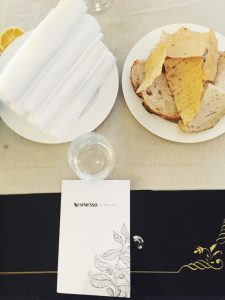 Lunch comprised the following dishes, each served with a wine pairing by sommelier Cristina Parizzi.
Chef Cristina Bowerman

Sea-urchin-stuffed bottoncini with smoked cacio e pepe sauce, insipred Nespresso Grand Cru Ristretto from India
Veal Heart with potato purée and Habanero in coffee sauce, inspired by Nespresso Grand Cru Lungo from Guatamala, and paired with Bramasole Cortona DOC Syrah 2010 from La Braccesca

Chef Andrea Ribaldone

Spiced risotto named "a memory of an impossible trip" paired Cervaro della Sala, Umbria IGT 2014 from Tenuta Casatello della Sala

Renato Bosco

Caffe Crème with pane carasau made with Nespresso grand Cru Espresso from Brazil
Panettone del Guatamala mae with Nespresso Grand Cru Lungo from Guatamala (REnato Bosco)

Parmigiano Reggiano – Vacche Brune, aged 33 months and paired with Nespresso Grand Cru Indrya from India.
The best part? Atelier Nespresso is growing!  You can check out this website to find recipes, trivia, video photos and events near you.
Some photos for the lunch are below. Honestly, my dessert photos were a little meh, so I don't want to share them, but here are some of the others.