As you know, I love Milan. It's Italy's best unkept secret and home to the country's most buzzing food scene–one that warrants just as much attention as its fellow Fashion Week cities but remains tragically overlooked. Since starting my podcast, The Milanophiles, I've come to understand that Milan is a city you must absorb. It's Italy, but you don't go to Milan for Italy–you go to Milan for Milan, and I hope more travelers will realize this to appreciate and love my adopted city as much as I do.
As Salone del Mobile/Design Week 2023 is underway, I thought I'd spread some Milan love. I loved the recent piece in T Magazine celebrating 25 essential dishes in Paris,  so I thought I'd compile 25 essential dishes in Milan. You can find the first half over on Ciao Bella and the second half below. Please note this list is NOT exhaustive–it's not "the" list of 25 essential dishes, but rather "a" list. I tried my best to be current, but it should go without saying that restaurant menus change, so if a dish isn't available during your visit, please be kind to me—you'll still eat well there regardless. Lastly, the dishes and groupings are in no particular order of preference.
Dishes 1 – 12: click here to read them on Ciao Bella.
Reinvented Classics
13. Cappelletti at Frangente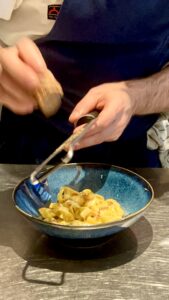 Chef Federico Sisti prepares some of the most captivatingly carnivorous cuisine in town, but the sea holds the Riccione native's heart as evidenced by his restaurant's name–Frangente has a few meanings in Italian, one of which is surf. His house-made cappelletti, inspired by his childhood Christmastime pasta-making experiences, represent a take on surf 'n' turf that befits him. The filling packs veal, beef, sausage, prosciutto crudo, and 24-month-aged Parmigiano. He cooks the pasta in butter with a few drops of aged red wine vinegar and finishes with a sprinkling of tuna bottarga for a vibrant pop of umami.
Via Panfilo Castaldi, 4; Repubblica
website
14. Pasta in Bianco at 10_11 Restaurant at The Portrait Milano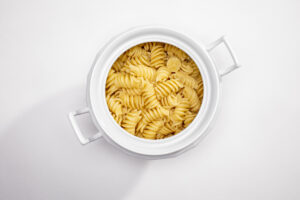 To Italians, pasta in bianco (pasta with butter and Parmigiano) is the ultimate comfort food. To most Americans, it's a kid's menu mainstay or chef's go-to for fussy children. Yet, in Italy, pasta in bianco never gets old or tired, and it's not just for kids. At 10_11 restaurant at the Portrait Milano hotel, chef Alberto Quadrio has a knack for reinventing classics. His pasta in bianco upgrade is rooted in la cucina povera, and it's taken Milan by storm: no butter or Parmigiano–not even oil. Instead, he repurposes 36-month Parmigiano Reggiano rinds for a broth in which he cooks fusilloni pasta quasi-risotto-style. The simplicity elicits such concentrated and complex umami flavor that you wish you were enjoying this comfort food at home so that you can take a second helping. Honestly, it just makes you smile.
Corso Venezia, 11; San Babila
website
Pasta
15. Fregola With Squash and Pecorino Fonduta at Baratie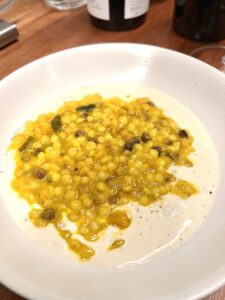 As I mentioned in the first half listed on Ciao Bella, a new wave of Italian cuisine has swept over the Lombard capital, and Baratie's chef Andrea Cicu is a committed member of this brigade. His fregola with squash and peppery pecorino fonduta evokes a depth of flavor that dazzles and lingers long after the last bite, and you can't get enough. He sautees the squash with oil, then cooks the fregola with the squash before placing it over a bed of Pecorino fonduta. Every spoonful couples pillowy pearls of fregola with the squash's sweet notes juxtaposing the sharpness of the cheese. It's concentrated and hearty without being too heavy, and you'll rue the last bite.
Via Stendhal, 49; Solari
website
16. Ajo e Ojo at Manna
Not sure if it has to do with the location, but I feel like Manna is one of those restaurants people don't keep front of mind when they're visiting Milan and it's a shame because chef Matteo Fronduti's ego-free heartfelt cooking should be had by all when they visit here. I've chosen a dish that might not be on the menu anymore, but I assure you whatever choose at Manna more than makes up for it. I have a soft spot in my hard for anything that elevates aglio, olio and peperoncino because I feel like for all its simplicity, it's easy to proffer up an unimpressive plateful. Only deft hands can masterfully maneuver the less-is-more wow effect of the ingredients harmonizing, and Fronduti exemplifies this with Manna's Ajo e Ojo. At its core, it's simple: spaghettoni, garlic, oil, peperoncino, langoustine crudo, and lemon. Yet Fronduti strikes a harmonious balance that's at once creamy and delicate and teems with vibrant flavors. Alas, my photo of it from a few years back isn't good, and the restaurant doesn't maintain a portfolio of its dishes, so I can't post one here. But I dove deep into Instagram and found one here. It's also worth noting that any and every risotto he makes is outstanding.
Piazzale Governo Provvisorio, 6; Turro
website
The Worldly
17. Khachapuri at Tone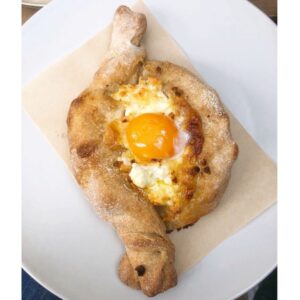 Giovanni Marabese's Tone suitably exemplifies Milan's ever-evolving dining scene: a scene that defies the Italian stereotypes to characterize the Milan of today. Tone, open for breakfast, lunch, aperitivo, and everything in between, is named for the Georgian oven installed by the front window. Head baker Marco Bianchi makes an array of bread and sweets that fuse Eastern influences with Italy's finest. For example, the signature Khachapuri resembles the boat-shaped, open-faced Georgian bread that's stuffed with cheese and a runny egg. But in lieu of the traditional imeruli and sulguni Georgian cheeses, Tone's version packs three types of Italian cheese: ricotta, quartirolo Lombardo, and one made from raw cow milk.
Via Donatello 22; Città Studi
website
18. Shy Scallop at MU Fish
Yes, Milan teems with Japanese restaurants, yet Mu Fish proffers a singular experience you won't find in the city center: the cuisine of chef Jun Giovanni. This isn't a restaurant you stumble upon –MU Fish stands at the end of a street full of warehouses on the outskirts of Milan in Nova Milanese, and it's full every night. Giovanni draws inspiration from both her native Japan and her cooking experiences in Italy, Puglia in particular. Her "Shy Scallop" swims with shiso and a shallot sauce beneath a milk foam topped with grated lemon peel. You have no idea what you're in for–a kaleidoscopic effect swarms in as the flavors morph together. It's pure magic and you have to restrain yourself from licking the bowl clean.
Via Galileo Galilei, 5; Nova Milanese
website
19. Aàrich Saj at Mezè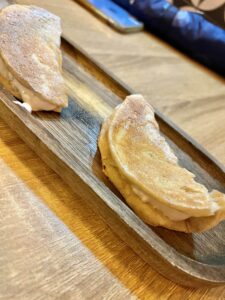 Anyone not familiar with Milan is usually taken aback by not only how vast the international food scene is but also by the quality of the cuisines. Case in point: chef Maradona Youssef's superb Lebanese cuisine at Mezè. Saj, or Lebanese flatbread, is prepared all service long in a dedicated nook in the dining room equipped with an iron dome griddle. The options are downright crave-worthy–you'd be remiss if you brush over the menu's Saj section (it's toward the back) and even more remiss if you skipped the aàrich which stuffs ricotta yogurt, parsley, onions, and peperoncino into the crispy cooked flatbread–there two to an order, and you might regret ordering just one. It has everything: acidity, sweetness, spiciness, flavor, and textures, and I wish it were my daily merenda.
Via Sottocorno, 19; Risorgimento
website
Sandwiches
20. Pastrami di Lingua, Gerli dal 1870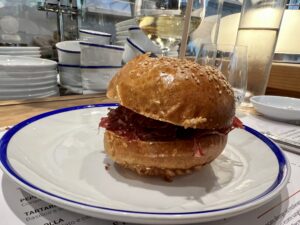 No visit to Milan is complete without a panino–for the uninitiated, "panino" refers to any sandwich, not necessarily the hot-pressed sandwiches called "panini" abroad. The Gerli family, owners of the excellent Antica Trattoria del Gallo on Milan's southwest outskirts, opened a chicken-dedicated restaurant in Milan last year. As tender and flavorful as the chicken is, the must-eat dish comes from a different meat group: the pastrami di lingua (pork tongue pastrami) panino, which tops the cured meat with caramelized red onions, and pickled cucumbers, and mustard and squishes it all into a sesame seed bun–bit after bites elicits a procession of flavors and textures that dance on the palate.
Via Carlo Ravizza, 23; Buanorotti
website
21. Katsasandu at Katsusanderia
Speaking of sandwiches, the Milanesi are pazzeschi Katsusanderia at Sidewalk Kitchens, a "food collective" comprising five kitchens sprawled behind a wall of windows that open onto the sidewalk. Chef Yoji Tokuyoshi of the excellent Bentoteca partnered with Alice Yamada for this excellent street food joint focused on Japan's signature Katsu Sando, a fried pork cutlet sandwich with veggies and sweet tonkatsu sauce stacked inside lightly coated white bread. If you're not in the mood for the classic, there are also versions with chicken, mackerel, and eggs–-elevated comfort food that represents Milano today.
Via Bonvesin de la Riva 3, Risorgimento
website
Sweet
22. Baked Rice With Coconut Cream at Spore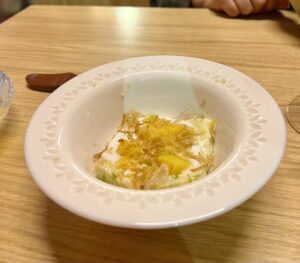 Owners Mariasole Cuomo and Giacomo Venturoli met while working at BÆSTin Copenhagen–she cooks and he handles the dining room and all-natural wine list. Cuomo honed her talent in the Noma Fermentation Lab, so, in case it's not obvious from the jars with fruits and vegetables soaking in colorful briny liquids in the dining room, her cuisine is fermentation-focused. Asian influences intersperse the ever-changing family-style prix fixe menu. Playful, inventive textures abound, and I'm highlighting a dessert: baked rice with coconut cream studded with fermented Peroche peaches. Sweet fried scallions top the lasagna-like slab, which doesn't pack too much sweetness. The textures and flavors harmonize and speak for themselves with each bite. Also, I want to give a shout-out to the sour cream and douchi that accompanied house-made bread–I dream of the day I can slather it onto a toasted bagel.
Via Passo Buole, 4; Porta Romana
website
23. Tiramisu at Stadera
Stadera marches to the beat of its own drum and I think it's safe to call it a beloved modern classic. Aldo Ritrovato, who honed his talent at the Bulgari hotel in Milan and subsequently earned a Michelin star at IT in the Brera, switches gears at this versatile contemporary gastronomia. Seating is at one of the two bar counters, and the menu comprises prepared dishes on view in the display case–eat them on-site or take them to go along with other artisan products. His à la carte kitchen menu presents casalinga-style flavors coupled with unfussy refinements, like spaghettone with bottarga and marinated shrimp. But, I'm going with Tiramisu here because, firstly, you can't not have Tiramisu in Milan, and, secondly, his is one of the best. Once you've had it, you find yourself not only craving Tiramisu but Stadera's. It's in the display case so you can always pop in to get it to go, but you'd be remiss if you didn't sit for a meal.
Largo della Crocetta 1; Crocetta
website
Tasting Menus
24. Not Only Broth Tasting Menu at Berton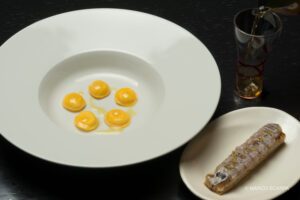 Broth might have peaked in the mid-2010s, but Andrea Berton was a broth enthusiast well before it became trendy. The Michelin-starred chef's fondness for the liquid is evident in his ingeniously executed and suitably titled Non Solo Brodo (Not Only Broth) tasting menu. To clarify, it's not a flight of stocks, but an elegant tasting starring broth, and he crafts the accompanying foods to complement the broth, maximizing and enhancing each other's flavors. For instance, the mantis shrimp broth (pictured above) gets poured over a clever take on a pasta classic: ravioli injected with a liquid garlic, olive oil, and peperoncino filling. Plus, a crispy mantis-shrimp-topped focaccia is served alongside. Note: you can also order this dish à la carte.
Via Mike Bongiorno, 13; Porta Nuova
website
25. Pasta Tasting Menu at Exit Pastificio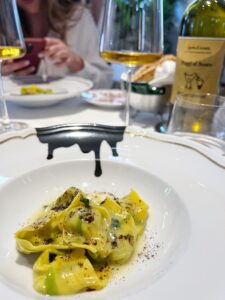 I know I'm an advocate for all things northern Italian, but as much as I love risotto and polenta, pasta will always be the start of my heart, and Exit Pastificio Urbana is one of the finest places to indulge in the majestic carb. Once you've opened the menu, you'll welcome chef Arianna Consiglio's three- or five-course tasting menu so you don't have to choose just one of her superb dishes. The menu's always changing, but may include spaghetti aglio, olio, peperoncino with calamari or gigli with almond pesto and semi-dried tomatoes and cappellacci filled with spinach, butter, sage, and coffee powder – I'm currently intrigued by the spaghetti alla milanese.
Via Orti, 24; Crocetta
website