Lunch is one of the most exciting parts of the work day, and lately I'm all about Nishiki sushi restaurant.
In Milan, we're encouraged to savor a meal for a full hour at a table, not from our desks as we work.  In Milanese dialect,  schiscia means a lunch brought from home. If I don't have Schiscetta in tote, it's out to lunch I go. The neighborhood I work in is, to be frank, a culinary wasteland save for a couple of decent kebab joints. There are, however,  a few decent restaurants that are a bit of a schlep from the office, like Al Casottel and Nishiki sushi restaurant.
A swanky sushi restaurant near the Lodi metro, Nishiki recently underwent a major renovation, and it offers the 'hood's most high quality sushi, a welcome reprieve from the all-you-can-eat sushi joints that use mostly surgealati (frozen) products. With quality comes cost, and it's a price I'm willing to pay thanks to our nifty buoni pasti.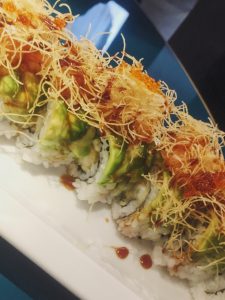 So, Nishiki doesn't have one set price for the lunch menu. Instead, prices vary according to the menu item. For instance, I always opt for the Ale Roll, a shrimp tempura maki roll and topped with spicy tuna, avocado and crispy tempura strings. The generous roll has about eight pieces and alongside it. A miso soup, appetizer of the day (usually gomae wakame), fried rice and salad accompany the roll…all for the lump sum of 15 euro. (Prior to the redesign, the price included a tea. )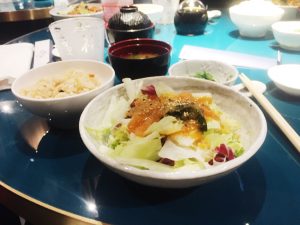 Now the prices vary, as some rolls  cost one or two euro more, others one or two euro less. For non-sushi dishes, you get three pieces of a maki roll alongside in addition to the other dishes. Sashimi comes with white rice instead of fried.
I know the prices may seem a bit steep according to Milan benchmarks, but I'm so used to New York prices plus tipping the dudes who would deliver me the lunch I'd eat at my desk…so I don't find the the prices at Nikishi sushi restaurant lofty. Especially when Nishiki accepts buoni pasti, or restaurant tickets, which make lunch (or even visits to some supermarkets) even more enjoyable.
Nishiki sushi restaurant
Corso Lodi, 70
+39 02 8739 3828
Tuesday – Saturday: 12pm – 3pm; 7pm – 11pm
Sunday and Monday: 7pm – 11pm
website