I had known about Giacomo restaurant before I ever set foot in Milan as it had shown up in all my Milan dining Google searches. (I couldn't forget about a restaurant named Giacomo if I tried simply because it's my father's birth name.) However, I didn't make it there during my pre-expat travels or pre-Milan-relocation sojourns. I'm embarrassed to admit that in fact, I didn't enjoy a proper meal at Giacomo until about four-and-a-half years of Italy living.
Since Giacomo is a Milanese mainstay, I think I took its endurance for granted. I kept telling myself I'd get there next time, knowing it would always be there….kind of like the Statue of Liberty and New York. However, the difference is that I finally ate at Giacomo restaurant (the Arengario outpost) while I still haven't set foot on Liberty Island.
Now, I love me an old Milan story and Giacomo's starts in 1958. Tuscan chef Giacomo Bulleri opened his now iconic namesake restaurant in Milan. Four establishments later, the nonagenarian is still going strong. So strong, in fact, that the commune of Milan awarded him the Ambrogino d'Oro, an esteemed local distinction, in 2015.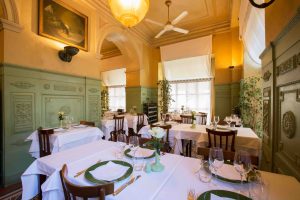 The original Giacomo restaurant sits nondescriptly on Via Sottocorno concealed by floor-to-ceiling curtained windows behind white awnings. Acclaimed artist Renzo Mongiardino designed the interior to recall a turn-of-the-century Lombard trattoria. The locale exudes elegant old world charm and counts such notables guests as Henry Kissinger, JFK Junior and Michelle Obama, among many others as patrons. In fact, a table here is one of the most difficult to come by during Fashion Week and Salone Mobile.
In 2007, Bulleri's pastry-school-graduate granddaughters Giulia and Elena Monti opened Giacomo Pasticceria across the street. They prepare delightful dolci like fruit tarts, millefeuilles, profiteroles and tarte tatins. All of the sweets are delicious, yet two family recipes stand out. La Bomba di Giacomo, or the bomb of Giacomo, is out of this world! Two puff pastry sheets are filled with chantilly cream, mascarpone and wild strawberries. Additionally, the double chocolate cake with soft chocolate ganache is equally divine. (I tried these during my lunch at the Arengario, which I'll get to in a bit!)
Also on Via Sottocorno, the adorable Giacomo Tabaccheria opened in 2007.  The décor recalls Paris of the 1920s and includes a striking nineteenth-century bar top. This gourmet boutique sells sandwiches and pastries made at Giacomo Pasticceria as well as many interesting products from the Giacomo brand, many of which are prepared at the offsite laboratorio, like jams and honey. A nifty find here is the peschiole, stone fruits typical of Caserta that have been preserved using an old family recipe. There are amazing products made in the offsite laboratorio like marmellata, honey and more!
In 2009, Bulleri opened a bistrot beside his namesake restaurant, designed by Laura Sartori Rimini and Roberto Peragalli, protégés of the aforementioned Mongiardino. Inspired by the décor of a quintessential French bistrot, the interior features hand-painted fabrics and velvets. The glossy black wood paneling recalls old English clubs.
The following year, Bulleri expanded his empire beyond Via Sottocorno to the Arengario, a distinct Fascist-era building in Piazza del Duomo that houses the Museo dell' 900.  I suggest taking a walk up the spiral ramp to arrive at the restaurant so that you can admire  Il quarto stato (The Fourth Estate) by  Giuseppe Pellizza da Volpedo, a striking painting that depicts a turn-of-the-century worker's strike.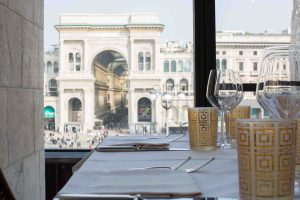 When you arrive at the restaurant, a gorgeous view of the Galleria Vittorio Emanuele II, Piazza del Duomo and the square's stunning namesake Gothic cathedral greets you. The décor by Laura Sartori Rimini and Roberto Peregalli pays homage to Art Deco New York.
The restaurants "period rooms" are designed according to different eras. The Hall is inspired by the 1920s with low tables, armchairs and sofas, while the bar is surrounded by lacquered wood elements.  The dining area features upward facing mirrors, which recall the works of Giorgio de Chirico and Carlo Carrà, gilded wood paneling and a distinct coffered ceiling. The Gallery, which features 1930s red lacquered paneling, has a large bar counter that is perfect for an aperitivo, while the glass loggia features stunning views of Piazza del Duomo. There's also an outdoor terrace that's a lovely place to dine during the warm weather months.
Despite the fact that it's located so close to where all the tourists flock, you will eat well here. Chef Jose Otoya serves seasonal cuisine into which he incorporates influences from his native Peru. So go ahead and give it a try. Here's some food porn from my lunch! Check out Giacomo's website for information on all the establishments.