Now that I'm an officially a nine-to-sixer, I'm getting back into the swing of having an office swing, there's one thing I'm not quite so used to: a lunch hour. Sure, we had lunch hours in New York but no one ever really took them unless it was business related, a special occasion (cousin or friend in for a short time from out of town), and most multi-task and take lunch behind their desk, a habit which at times, I still have struggled to break. Now when Friday rolls around, if I'm not hard pressed to catch a train and leave work at a certain hour, I've become quite fond of lunch at Trattoria Casottel or, as we refer to it at work, the nonna's.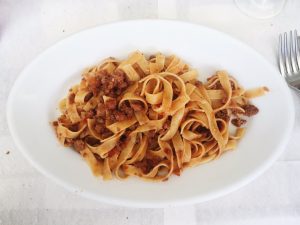 Trattoria Casottel sits in southeast Milan all the way on the edge of the city. The nonna is Isa Rebecchi who cooks solid simple yet flavorful trattoria with love. There's no menu, just two or three primi and three secondi and usually some salume and veggies to start. From tagliatelle with ragu to spaghetti with shrimp and zucchini to pasta fagioli, I've had many an amazing primo piatti here as pastas are my thing, but my hands down favorite plate to eat here is the Cotoletta alla Milanese, a typical Milanese veal cutlet that is served here orecchio d'elefante, or elephant ear style, flattened super thin and super wide.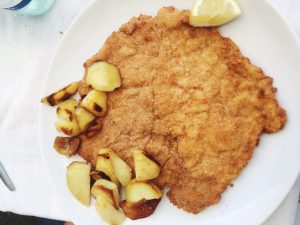 Now lunch at Trattoria Casottel can be long, but during a Friday in the summer there's nothing quite like sitting outside among my colleagues and trying to keep up with their Italian. Great eats and great company in anticipation of what's hopefully going to be a great weekend.
Lunch is always a per person cost and is usually around 12 to 15 euros per person, yes even if you only have one course and others have two and sometimes dessert. So my advice is get a primo and share the cotoletta with a friend because not only will you get the most bang for your buck, but if you opt only for a secondo, you'll be fighting off hunger pangs the entire lunch while you're waiting for it and watching everyone else eat their pasta.
Trattoria Casottel: Via Fabio Massimo, 25; + 39 0257403009; website