As a resident of Milan, for obvious reasons, I don't frequent the hotels enough. Unless there's an event of course, like the Home Sweet Home summer aperitivo at Sina the Gray hotel.
Every Wednesday through the end of July, Sina the Gray is hosting Home Sweet Home summer aperitivo on Terrazza Aria, the second-floor terrace,  a veritable urban gem. Needless to say, as a former New Yorker I'm accustomed terraces and rooftops on which more often than not, tall buildings obstruct any semblance of a view or sky. Thankfully,  the buildings in this little nook of Milan's historic center are relatively low, rendering the ceiling the sky at Terrazza Aria. Warm colors, illuminated candles, Persian rugs, red lanterns and comfortable cushioned sofas enhance the feel-at-home vibes of the elegant yet cozy ambiance…the only thing missing is a pool!
https://www.instagram.com/p/BkhY0MWh95k/?taken-by=sinathegray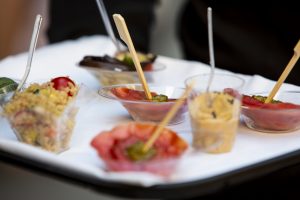 So, swing by between 6.30 pm and 10 pm for an aperitivo complete with a DJ set spun by Greta La Medica. The "Milano Torino 1958" featured cocktail celebrates the 60th anniversary of the Hotel Sina group, founded by Count Ernesto Bocca and his wife, Countess Ida Visconti in 1958. So, to celebrate their new endeavor, the couple couldn't agree on a celebratory drink. Torinese Ernesto naturally wanted to sip Vermouth while Milanese Ida was partial to Campari. As a result, they compromised and toasted with the Milano Torino 1958, a cocktail comprised of both to which they also added some hazelnut liquor.  At Home Sweet Home,  cocktails cost 15 euro a pop and include some tasty hand-passed canapés.
Moreover, the three-floor hotel itself is quite splendid. Each of the 21 rooms and suites feature African- and Asian-inspired decore, but differ from each other.  Occasional splashes of color juxtapose the warm dark color scheme and low lighting.  These bright touches include a purple velvet swing in the lobby, a shelf of gorgeous red Chinese vases and the plush red banquette seating in the ground floor bar. Also, the third-floor Gallerie suite boasts a gorgeous view directly into Milan's iconic Galleria.
Go check it out!
Sina The Gray
Via San Raffaele 6
Home Sweet Home; every Wednesday through the end of July
6.30pm to 10pm
Terrazza Aria, 2nd floor
Website