If I know one thing, it's that I heart Venice and I want to shout it from the rooftops. I don't care that the city is touristy! If you've ever been there, you know firsthand that you can't blame everyone for flocking to this majestic, seemingly floating city in droves.
La Serenissima stole my heart five years ago and I've gone on to discover the city's sights, sounds and restaurants as well as outer islands like Giudecca, Murano, Mazzorbo (home to Venissa) and Burano, and lately, the city has been on my mind for at least two months. While I hold many Venice memories near and dear to my heart, I suddenly found myself reminiscing about one of my most favorite Venice experiences: Dining at the Gritti Epicurean School.
Before I proceed, I should make you privy to a little backstory. Once upon a chilly October 2013 evening, a couple of friends and I sipped spritzes on the Gritti Palace terrace under heat lamps as vaporetti and gondale glided past us along the glorious Grand Canal. We were super intrigued by the dude who greeted the hotel guests disembarking on the hotel's private dock, and we joked that we'd love to stay at the Gritti Palace one day, if only so that man could greet us. He seemed so nice! Little did I know then that I'd eventually have that very opportunity…not just to stay at the hotel, but to receive a warm welcome on the hotel's private dock. (Not sure if it was the same man, though.)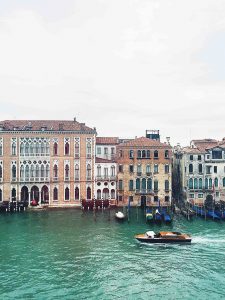 See, the Gritti Palace, a Luxury Collection Hotel, is so much more than a hotel: It's an institution! Located inside a majestic palazzo that's been presiding over the Grand Canal since the fifteenth century, the Gritti Palace hotel was born in 1947. It closed for an extensive painstaking renovation in 2011 and reopened in 2013. From adornments and objects like Murano glass chandeliers, Rubelli fabrics, Frette linens, Italian marble, and Donghia furnishings to tons of old things like Baroque church altar pieces, nineteenth century light fixtures and an "Explorer's Library" brimming with glorious old books, the Gritti Palace is exquisitely glorious.
The Gritti Epicurean School, located on the hotel's ground floor next to the restaurant's dining room, has been celebrating local Venetian cuisine since 1975. Nowadays, chef Daniele Turco helms this special cooking school and he runs a very tight ship, celebrating the the lagoon's bounty with dishes tagliolini with spider crab and caviar and baby shrimp with white polenta. Copper pots adorn the walls, cookbooks line shelves and gondole glide by the window in the tiny canal next to the restaurant that are so close you feel like you could touch them. A long, high wood banquet table that seats up to 16 people stands in the center if the room gives guests a front seat to chef Turco cooking your dinner. (Food porn below).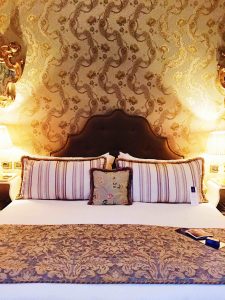 Hotel guests have it sweet! They can sign up for the Stay&Cook option, a three-day Venetian gourmet adventure that includes a visit to the storied Rialto market with the chef where guests learn about the fish and how to buy it; cook with the chef in the school; visit a bacaro for a traditional Venetian aperitif–an ombre (shadow) of wine and cicchetti–and more.
If you're not staying the Gritti Palace itself, fret not. You can still sign up for a special half-day visit to the Rialto Market with the chef followed by a cooking lesson. You can read more about them and sign up here!
No matter how many movies or editorial spreads or Instagram pics you've seen, nothing prepares you for actually seeing and experiencing the city, and if you can learn a thing or two about Venetian cuisine along the way, then why the heck not? Seeing Venice is just half of the true Venetian experience; eating well is the other.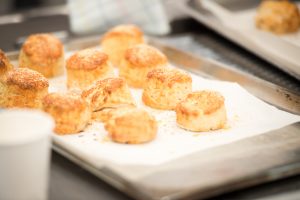 And speaking of eating well, I personally find no nosh more gratifying that a fresh scone topped with jam (strawberry preferably, but I'm open to other flavors.)  Don't get me wrong, I love Milan's breakfast offerings, but I would start every morning with one of these buttery, crumbly, slightly sweet traditional British afternoon tea breads if I could. Although it's a British tradition, afternoon tea isn't rare in Italy, but a scone baking class taught by bonafide scone experts, which the Gritti Epicurean School has recently implemented, is.  Lynne and Keith Allan, a British husband-and-wife baking duo, teach participants how to master the entire scone-making process from start to finish. From fruit, plain and cheese scones to the best marmalades and jams prepared with Rialto Market fruit, scone bakers learn the entire process the good old-fashioned way: By hand!  The cost is 120 euro per person, and the classes are ongoing. Next dates are February 7 and March 14, with more to come. Keep an eye on the calendar!

[easy-image-collage id=3189]

[easy-image-collage id=3190]

The Gritti Palace, a Luxury Collection Hotel
Campo Santa Maria del Giglio

*Disclaimer: I was invited guest of the Gritti Palace and Gritti Epicurean School, but all opinions are my own.