I love me a pre-dessert even more than an amuse bouche. Don't get me wrong…I love how those little welcome bites from the chef serve as a prelude for the forthcoming meal. But there's something so satisfying in the arrival of a sweet treat that paves the way for dessert.
I remember the first time I ever had a pre-dessert at a fancy New York restaurant: a simple quenelle of lemon sorbet. I cherished every tart spoonful.  But this was more than a decade ago and since then the predessert has evolved into a class of its own. In fact,  in some cases, they would be even sufficient enough for dessert…though I'm glad they're not because that would mean dessert proper was not imminent.
Anyhoo, here's a look at three pre-desserts I enjoyed this past fall that not only completely stole my heart, but also stirred up some unexpected nostalgia within me, warming my worn out heart.
1. The Cherry Bakewell at Core by Clare Smyth.
I was delighted to have been able to land a table at Core by Clare Smyth…I had been eager to dine there since watching the titular chef prepare her Potato and Roe, a dreamy amalgam of the sea and the earth, at Identità Golose.  After we finished lunch, I was pleased to see this lustrous cherry atop a bed of almonds appear in front of me.  The Cherry Bakewell pre-dessert was made freshly chopped black and Amarena cherries complete with cherry sorbet, almond foam and Sable Breton crumble. Unreal. And it's wild how nostalgic food can be. To me, this recalled a much more sophisticated and nuanced version of the Strawberry Shortcake and Toasted Almond bars I would get from the Good Humor truck as a child, so I couldn't help but be taken back to my careless childhood summer days swimming in the pool and,  once 5 pm hit, keeping an ear out for the sound of the chimes of the ice cream truck. Then came the carrot dessert and I was back in the present!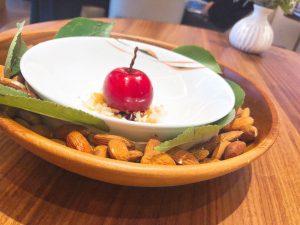 2. A deconstructed Bloody Mary at Magorabin
So, I had an incredibly whimsical and playful lunch at Turin's recently revamped one-star Michelin-rated Magorabin in October. I've been meaning to write about it but I haven't got it yet (you know how it gets!), but I'd like to take this opportunity to show some love to the pre-dessert, cherry tomato and Worcester sauce granita coupled with vodka and candied celery gelatin. This did more than just pave the way for a tropical-esque coconut semifreddo with mango gelato and pineapple chutney. I was an avid bruncher in my past NYC life, and I relished the bellini and mimosas–especially at the brunch joints that offered those typical brunch accompaniments in an unlimited quantity. This is why I didn't warm up to the Bloody Mary until my late twenties, but once I crossed the threshold, it felt like such a rite of passage into adulthood. Yet, thinking about this, I couldn't help but recall those glorious (mostly liquid!) NYC brunches, and how proud I am to have eventually been able to appreciate the Bloody Mary.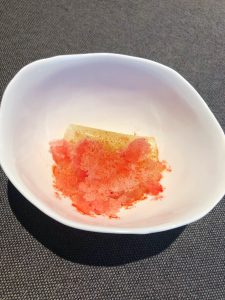 3. A yogurt and berry concoction at Mirazur
Okay, so I loved this pre-dessert during my exemplary lunch at Mirazur, yet I can't remember exactly what it was. But cut me some slack, please…I was in really good company with incredible panoramas of the Côte d'Azur, and I didn't want to start jotting down notes in my notebook or on my phone. I just wanted to snap a pic here and there, and enjoy the meal for what it was in the moment.  I did follow up with the restaurant to see if they could please advise of what exactly this treat comprised, but I never heard back.  I do remember this yogurt flavored ice cream coupled with that berry concoction resulted in a marriage so refreshing I had the urge go kick back on the beach again. And I wanted to eat that every day. As silly as this sounds, I couldn't help but recall the first time I drizzled some honey on top of my Greek yogurt and wanted to snack on that every day. And for about a week-and-a-half, I did.