A few weeks ago, a colleague asked for a restaurant recommendation near the Duomo with good pasta.
"Spazio," I replied without hesitating.
As I started telling her about the restaurant, I realized that it seemed like eons since my last Spazio Milano visit, and I was long overdue to return so when my aunt was in town last week, We had dinner at Spazio. Now, I was obviously being hyperbolic when I wrote eons as Spazio Milano only opened in April 2015, but it feels like it has been there forever which to me indicates that Spazio belongs there; it's exactly where it should be.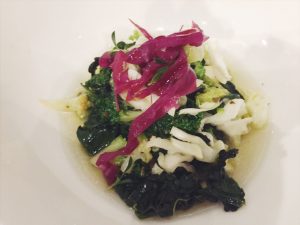 Part restaurant/part laboratory, Spazio sits on the third floor of Mercato del Duomo inside Milan's iconic Galleria Vittoria Emanuele II. Students from Niko Romito Formazione oversee both the kitchen and dining room. (Note: Just in case you don't know, Niko Romito is the chef of Ristorante Reale, one of Italy's eight three-star Michelin restaurants).  Until Felix Lo Basso opened earlier this year, Spazio Milano was only the only restaurant where you could have a truly gratifying, inventive, delicious meal accompanied by a gorgeous eye-full of the Duomo (good eats are few and far between here),  but also one of the few places in this tourist-trap-filled neighborhood where the value/quality ratio was spot on.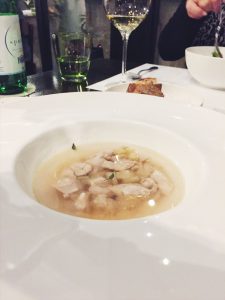 The menu comprised dishes that add a contemporary touch to Italian tradition, and I started with a chicken consommé that, particularly in this cold weather, I haven't stopped craving since. So clear, so flavorful, so comforting and so warm; silky mouthful after silky mouthful coated my palate and the flavors lingered for a seconds before I would have to replenish with the next spoonful. I of course could attempt my own consomme just to have some broth on hand and at my disposal when necessary, but the result just won't be the same. The tender, perfectly cooked chicken pieces inside had texture and substance, they were not at all stringy or dried out. My aunt opted for the sautéed vegetables with an apple and celery extract.
Now, I'm obsessed with pasta and nowadays I just see way too many crimes against pasta, both on the social networks and also in some restaurants (i.e. "Sicilian pasta with salmon"). I eat pasta every day, and I cook two very plebeian incarnations of the pastas that we feasted on that evening: Linguine with broccoli rabe, anchovies and peperonico, and tagliatelle with parmesan, pepper, lemon, parmesan and mint. I could have consumed one of each that's how delicious they were. The broccoli rabe had a pesto like texture and enveloped the perfectly al dente linguine noodles, which were complete with meaty anchovy slivers. The tagliolini had a simple, comforting, home-made component,  but its flavors came together in a refined manner. My humble version of the latter is usually complete with basil or parsley, but the mint added a refreshing, pleasant touch.  The overall plating was obviously prepared a little more elegantly than anything my two left hands could ever do.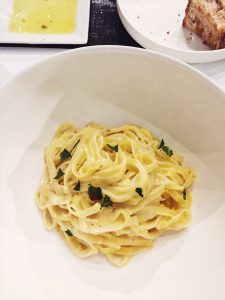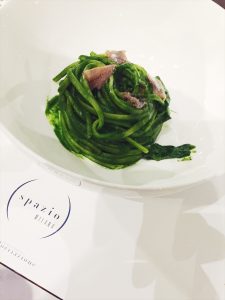 We sipped a bottle of Friuliano and for dessert we sampled the apple puff: crispy puff pastry with apples and vanilla custard ice cream.
I spent most of my career in New York City restaurants and was blown away by Spazio's service: polished, thoughtful, deliberate and neat, and you don't always find that in Italy. Bonus points: They have little stools for you to rest your bag on during dinner.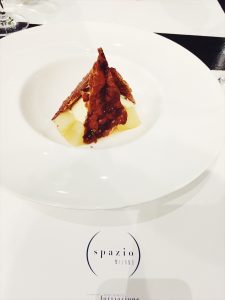 It's safe to say that Spazio hasn't lost any of its charm and I can't wait to re-return, only I refuse to let so much time elapse until my next visit.
Finding Spazio can seem more difficult than it is because of all the crowds outside, but it's easy. Enter the galleria at Caffe Motta, which sits just to the right of the Galleria entrance on Piazza del Duomo. Take the escalators all the way to the top, and keep following the Mercato del Duomo signs.
Final tip: Make sure you use the bathroom because it's really cool. I won't add anything else about it! See for yourself.
Spazio Milano: 3rd floor, Mercato del Duomo; Galleria Vittorio Emanuele, Piazza del Duomo; + 39 02 878400; website
Open 7 days: 12.30pm – 2.30pm; 7.30 – 10pm