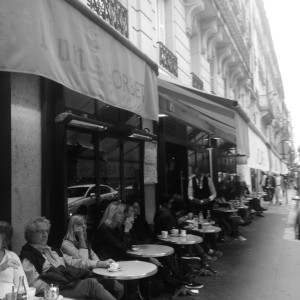 It's no secret to anyone who knows me or has seen my Instagram feed that j'adore Paris and even more, j'adore Paris restaurants. Besides Ireland and Italy, Paris is a European locale that I always am (and always will be) sad to leave.  The solace of residing in the same time zone as the City of Light has softened the blow of leaving as my pre-transatlantic-flight-bathroom-stall-breakdowns at Charles de Gualle airport have ceased.
Living abroad, I'm lucky to have managed to travel to Paris quite often, having come to know the city far better than I ever could have imagined. Every time a friend or colleague asks me for Paris restaurant suggestions, things to do in Paris, or must-see sights, I'm truly honored that they value my opinion, but I must give credit where it's due.
Firstly, the reason I have learned loads about the dining scene is because my friend Taline is a wealth of information when it comes to Paris restaurants, food trends, and all sorts of French food culture. I wouldn't know half of what I know about Paris restaurants if not for her.
Now, for those of you not lucky enough to have Taline in your life–not only for her vast knowledge of Paris restaurants but also for her extraordinary character–there is another way I stay in the know: reading up. There are some impressive Paris food blogs out there so I thought I'd share five of my favorites, listed below. If you or anyone you know is in search of some Paris restaurants, send them to one or all of these. And if I'm missing any of your favorite Paris food blogs, let me know in the comments!